Ca' del Bosco cheers to a new sparkling visitor experience
Ca' del Bosco, the renowned Italian producer of sparkling Franciacorta wine, introduces a dazzling, new visit experience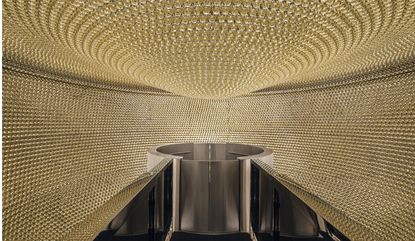 (Image credit: Courtesy of Ca' del Bosco)
52 harvests since its inception, Ca' del Bosco, the renowned Italian producer of sparkling Franciacorta wine, completes a definitive expansion of the visit route. '55 years ago we started with 1 and a half hectares and we have now reached over 283 hectares across 11 towns in Franciacorta, consolidating a very important vinicultural heritage,' says Maurizio Zanella, founder and president of Ca' del Bosco. 'At the same time, the spaces in the cellar have also been completed and redefined to best enhance our wines.'
Ca' del Bosco by Falconi studio
The Falconi studio-curated project begins with the new reception (opened two years ago), whose ring shape, with large windows and wooden portals framing the curved nave, embraces an oak tree in the centre – an homage to the surrounding forests.
The building features a circular wooden roof that connects the common areas, the showroom, and the tasting rooms: 'Our approached followed specific needs, such as a new reception structure and new visit spaces to better explain the product,' says studio founder Gabriele Falconi, while walking through rubicund walls. 'In honour of the Mexican architect, we call it Barragán red. We have also experimented with other colours, such as a grey-green that has been patented.'
Originally from Franciacorta, Falconi's studio has been designing the space since the mid-nineties. 'My father first, and then me, established a long-term relationship with the company. In this way, the connection with the territory can be read from two perspectives,' says Gabriele Falconi. 'These two worlds converge far more frequently than we might think. The best product is obtained in both cases by planning ahead of time and with foresight.'
To celebrate such an important milestone, an equally memorable wine was needed, Zanella adds: 'Hence the choice to reveal a unique Franciacorta, like the Annamaria Clementi R.S. 1980, after over 42 years aged on the lees.'
A walk through the greenery leads to the main body, the heart of the recent changes. Into the cellars, the original rustic structure has been preserved and is followed by the addictions developed with the collaboration of studio Falconi. A Starry sky vault, with small lights projected through the holes in the pupitres, creates a scenographic effect.
A long tunnel follows, widening in an infinite perspective: the walls surrounding the path are made of bottles stacked to full height and the textured ceiling's sparling effect (a clear allusion to the classic perlage of wine) is balanced on the ground by black resin.
Next is the Dome of the Senses, dressed in the same warm tones of the reception. The heart of the visit experience (which will be complemented by the reserve space, set to open in 2024) is a circular space with, at the centre, an artwork by Paolo Scirpa - a well of light featuring an infinite background.
All around are four rooms dedicated to sensory experiences, a modern reinterpretation of a more didactic introduction to fundamental aspects of the Franciacorta wine, from olfactory notes to soil specificity. The play of light then turns into a dazzling set: a colossal inverted cone, like an upside-down bottle, is completely covered with 30,000 bottles of the famed Ca' del Bosco Prestige. 'We wanted to emphasise the product through allusions, sometimes in a cinematographic way, but always explicit,' Falconi explains.
Figuratively immersed, the visitor descends to the lower floor through a telescopic walkway and panoramic lift: 'The tour is enriched with a scenography designed to amaze and to explore the four senses, in addition to taste, all accompanied by the real sounds of the cellar, those that can be heard while working in the barriques and vaults,' Zanella concludes. 'After the inauguration, the new tour will certainly also be extended to visitors, starting in the next few weeks."
Receive our daily digest of inspiration, escapism and design stories from around the world direct to your inbox