Best Urban Hotels 2014: the shortlist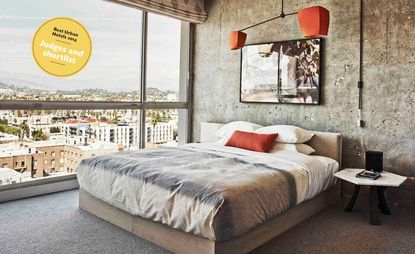 (Image credit: press)
It is no hyperbole to state that we are the most well travelled generation in history. So much so that it's no longer uncommon to jump on a transatlantic flight from Paris to New York for a weekend break. Some might even fly from Singapore to Melbourne for dinner.
See the shortlist for our Best Urban Hotels 2014
This unprecedented level of jet-setting poses its own unique challenges, with hotels – particularly those in urban centres – vying for differentiation, scrambling to make a play for that prized check-in. Business centres and mediocre gym facilities are now banned. In their place, says Maria Kuhn, vice president of public relations at Kempinski, are wiretap blockers and personalised fitness programmes. Convenience is a priority, with location transport access, check-in process, intuitive electronic connections and a whip smart concierge topping the list.
See the judges of our Best Urban Hotels awards
Sonia Cheng, CEO of Rosewood Hotels, says more and more urban hotels are creating supersized suites that incorporate rooftop terraces, libraries and private spas. The Grand Manor House at the Rosewood in London (opens in new tab) is so large that it has its own postcode.
A subtler dimension involves customising the needs of individual guests directly to a chef, replacing the quaint notion of ordering from an in-room dining menu. 'No one wants to be just a number, especially if they are repeat guests within the same brand,' says Kuhn. 'Using available technology to properly manage guest history and special requests is becoming increasingly important.' Cheng adds that technological advancements in hotels must be rooted in common sense. 'You would be surprised what a difference the arrangement of an electric socket makes to a guest.'
Hoteliers also recognise that the new generation of urban traveller, whether travelling for business or leisure, is looking to the hotel as a portal to discovering and experiencing the destination in all its authenticity. Here, design plays an important role. Kuhn feels that community engagement is important, especially for lone business travellers who 'want to feel included and prefer large, open public spaces – like the lobby, which allows them to meet fellow travellers.' In a similar vein, Carrie Wicks, operations director at London-based Firmdale Hotels, insists: 'Design is about creating highly individualised spaces, rather than cookie-cutter knock-offs.'
We believe that this year's finalists for the Best Urban Hotels sash are anything but cookie cutter. Instead they come from a new generation of hotels – self-contained lifestyle hives that, in Cheng's words, represent 'significant shifts in design and service styles, all the better to create more unique stay experiences that are relevant to the location.' The winner will be announced in our December issue.
Daven Wu is the Singapore Editor at Wallpaper*. A former corporate lawyer, he has been covering Singapore and the neighbouring South-East Asian region since 1999, writing extensively about architecture, design, and travel for both the magazine and website. He is also the City Editor for the Phaidon Wallpaper* City Guide to Singapore.