Singapore restaurants that deliver straight to your door
As Singapore's dining out culture shifts to eating at home, residents are still craving the comfort of their favourite local restaurants. Here, we present our pick of Singapore's restaurants offering takeaway and delivery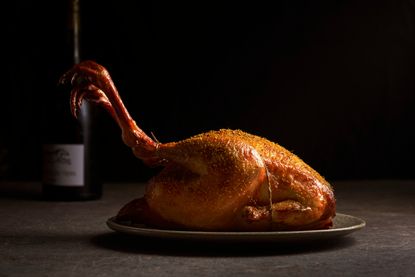 (Image credit: TBC)
Burnt Ends
Try as you might, recreating the smokey flavours of the dishes at Michelin-starred Burnt Ends on your home barbecue is just not going to happen. This might have to do with the fact that the restaurant's grilled delights are fired up in a huge four-tonne double-cavity custom-made oven, which owner and chef Dave Pynt says heats to almost 1,000 degrees celsius. So, save your barbecue for another day and order in the signature pulled-pork sandwich alongside some fancy sides like the smoked quail egg with caviar.
Dish to order: King crab and garlic brown butter
Cheek Bistro
Sometimes all you want is the comfort of a well-executed classic. This craving can be satisfied by Cheek Bistro, the modern Australian restaurant that serves zhooshed up favourites from simple burrata with heirloom tomatoes and fermented green chilli to lamb ribs served with a side of eggplant, yoghurt and mint.
Dish to order: Fish n chips red snapper with green peas
Le Bon Funk
Pair your glass of wine with some unconventional food from Le Bon Funk, an offbeat bistro best-known for its offering of natural wines. While the house-cured charcuterie is a no-brainer, it does pay to order dishes such as the beef tongue and gribiche sandwich or the cavatelli with tripe and 'nduja ragu. As for the wine, a bottle of the ridiculously drinkable Dosset Rosso wouldn't go amiss.
Dish to order: The whole heritage chicken
Meatsmith Little India
The sister to the American barbecue restaurant, Meatsmith at Telok - which is also offering a takeaway menu – the Little India iteration offers the same smokey meat flavours, but with an Indian spin. And while you might not be able to dine in amongst its colourful street artwork for now, the good news is the dishes – from the stuffed tandoori chicken wings to sharing plates like the soft shell crab curry – taste just as good at home.
Dish to order: Suckling pig biryani
Odette
Located in the National Gallery, Odette is arguably the finest of all fine dining restaurants in Singapore. And while visiting a three-Michelin star establishment is usually as much about the experience as it is about the food, chef Julien Royer has taken the unusual steps to offer a selection of his iconic and seasonal plates to enjoy at home. So set the table with your finest silverware, put on your Sunday best and order dishes like the Beetroot Collection served with burrata, honey and pomegranate or the Loire Valley white asparagus.
Dish to order: The whole roasted poularde de Bresse
OverEasy
The good thing about comfort food is that sometimes it does taste better when eating it perched on your sofa. So while dining in at OverEasy is off limits for now, the all-American diner is offering its nostalgic crowd-pleasing classics to enjoy at home. Make sure to order the To Die For burger and pair it with the decadent Oreo milkshake while you're at it.
Dish to order: Beer Can Chicken
Pó
The flagship restaurant in The Warehouse Hotel, Pó serves up elevated Singaporean favourites with a strong dose of nostalgia. From comforting classics such as paper spring chicken to carabinero prawns & konbu mee, this is your chance to enjoy a taste of home-cooking without having to do the dishes.
Dish to order: The popiah platter
Pollen
While Pollen's unique setting, tucked away in the corner of the Flower Dome – a glass greenhouse at Gardens by the Bay – is not to be missed, the great thing about its comforting European menu is that its dishes can easily be enjoyed just about anywhere. Don't miss out on homey classics from lasagne to cottage pie, followed by a selection of house-made cakes and tarts like the tiramisu or the lemon meringue pie.
Dish to order: Beef wellington
Salted & Hung
As its name suggests, it's all about meat at Salted & Hung. Cured, smoked, pickled or grilled, the modern Australian menu offers everything and anything from skin to bone, protein to innards. Start with the house-cured charcuterie and a side of sourdough with whipped lard and kelp butter, followed by the 30-day dry aged rib eye. Or for a non-red meat option, the seafood risotto goes down a treat.
Dish to order: Wagyu pastrami sandwich with mustard and pickles