Cadillac Celestiq EV is a bespoke super saloon, paired with a midcentury modern customer experience centre
Cadillac House at Vanderbilt was originally designed by Eero Saarinen. Now restored and updated, it serves as the customer centre for the new Cadillac Celestiq – a statement electric saloon and the most customisable Cadillac ever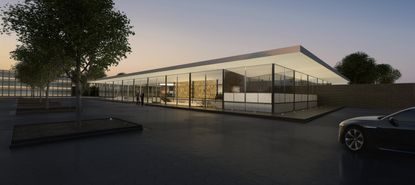 (Image credit: Cadillac)
Cadillac is forging a new path with its bespoke Celestiq model, taking the American luxury car maker to a new echelon where it hopes to compete with the likes of Rolls-Royce, Bentley and Maybach.
The company has also announced the new Cadillac House at Vanderbilt, a restored building on General Motors' celebrated Technical Center campus in Warren, Michigan, designed by Eero Saarinen and inaugurated in 1956. Cadillac House at Vanderbilt occupies what was originally the site's Central Restaurant, an elegant single-storey pavilion rich in midcentury detail.
Cadillac Celestiq and its Cadillac House service centre
The building is named after Suzanne Vanderbilt, a pioneering designer who joined GM Design in 1955 and worked in the Cadillac studio, as well as overseeing GM's interior trim department and securing two patents.
The restored building will serve as a customer centre for the forthcoming Cadillac Celestiq, an all-electric super saloon that will be built to special order only. Cadillac House at Vanderbilt will be the heart of the design process, starting with a one-on-one concierge experience that takes customers through the myriad options.
Celestiq is a radical statement in many ways, from its all-electric powertrain to its expansive interior. The company describes the car as the 'purest expression of Cadillac', citing handcrafted precedents like the 1933 V16 Aerodynamic Coupé and the 1957 Eldorado Brougham. Combining the rapidity of an EV platform, thanks to the equivalent of 600hp, and a circa 300-mile range, the Celestiq will go head to head with forthcoming ultra-luxury electric offerings from Rolls-Royce and others.
The vehicle is stuffed with superlatives, like individual screens for every passenger, a 42-speaker sound system, active road noise cancellation, a smart glass roof, power doors, integrated Google assistant, four-zone air-conditioning, 450 interior LED lights, extensive use of aluminium and carbon fibre, all-wheel drive, and much, much more.
An interview with Erin Crossley, Cadillac Design
Wallpaper* spoke to Erin Crossley, design director for the Cadillac Celestiq and Global Cadillac Interiors, about the new model and how it relates to Cadillac's long history of luxury design.
Wallpaper*: As someone who has had close involvement with every Cadillac model for over 20 years, what can you tell us about the company's move into the ultra-luxury segment?
Erin Crossley: Over the last two decades, the Cadillac brand has been very much about halo positioning in the performance realm, with the V-Series and the Blackwing special edition models. We wanted to elevate the other side of the brand, which is premium luxury and handcraftsmanship.
W*: What you would you say were the historic precedents for Celestiq?
EC: You can look pretty far back into the history of Cadillac and see a lot of glamour surrounding the brand. There were just so many choices in terms of colours, materials and finishes. We have this beautiful display in our design archive that shows these choices, as well as the historic build books and brochures. There was an opportunity to really create this vision for yourself in a Cadillac. And that's what Celestiq is about.
W*: That 'high period' of Cadillac design in the 1950s and 1960s is quite synonymous with midcentury modern design. Do you think this car is well timed because of the revival of that style, especially in luxury design?
EC: You know, there definitely is. All the stars somehow aligned for the brand with this vehicle, and the opportunity to reimagine a historic midcentury modern space on the General Motors campus in which to highlight the vehicle is the icing on the cake.
W*: How has Cadillac House at Vanderbilt been adapted for Celestiq customers?
EC: It's been a lot like custom-designing the car itself. Our design team was very hands-on, looking at how we could reflect the original Saarinen design and sensibilities. We've been able to commission custom pieces of furniture, for example, working alongside the industrial design team at GM. The lobby features this fantastic custom gold screen by Harry Bertoia, which has been completely restored. Could it influence customers? Absolutely – these are the conversations we really want to have.
W*: Is this level of customer design interaction only possible with an electric platform?
EC: I don't think so – you could do much of what we have done relative to the handcraftsmanship, material selection, client interaction and design development on a gas vehicle. However, the point with an EV is that it is relevant for the brand at this time.
W*: Do EVs offer designers the chance to redefine luxury?
EC: They speak to how important technology has become in relation to design. Having an electric platform definitely gave us some opportunities to explore different things, from the way the exterior lights are choreographed, to the way we've really leaned in to the interior spaces.
W*: How long do you think the customer process will take?
EC: It will be very much client dependent. We're starting the process with a huge palette of front-loaded colours and materials to inspire and start a conversation, all of which were created by our design team. Every client will work with a personal concierge, and they'll then connect them to myself or another member of the design team. We expect to have clients who are very intrigued by design and probably very accustomed to being able to customise things for themselves. They want to have that interaction and be able to ask those questions directly to a designer.
W*: How long will each car take to build and what are the limits?
EC: I'm honestly not sure how long each car will take – it'll depend on how many iterations the customers want to go through. We have the capacity to build two Celestiqs a day, with six in build at any one time. In terms of what clients can do, truly the sky is the limit. We don't want to say no to a request. This vehicle is a wonderful canvas – every surface and panel can be wrapped or made from something different. There's a lot to engage with.
W*: Is that daunting?
EC: A little bit. The opportunity to work closely with multiple clients is great – seeing design through the eyes of many different people.
W*: What techniques will be used?
EC: We're 3D-printing stainless steel and aluminium for the first time, which is very exciting. For example, there's a large decorative piece on the steering wheel boss that can only be created using this process. There's also the inspiration from the old colour palettes, whether its bodywork or textiles. Our role is to artfully suggest ways of approaching the design. Ultimately, beauty is in the eye of the beholder.
Cadillac Celestiq, from $300,000, enquiries via Cadillac.com
Jonathan Bell has written for Wallpaper* magazine since 1999, covering everything from architecture and transport design to books, tech and graphic design. He is now the magazine's Transport and Technology Editor. Jonathan has written and edited 15 books, including Concept Car Design, 21st Century House, and The New Modern House. He is also the host of Wallpaper's first podcast.