OPPO builds on its organic design language with a sculptural future HQ by ZHA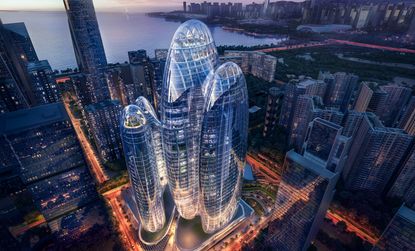 (Image credit: OPPO)
In partnership with OPPO (opens in new tab)
In 2020, Zaha Hadid Architects (ZHA) won the competition to design a new headquarters building for OPPO Telecommunications in Shenzhen. Founded in Guangdong, OPPO entered the mobile market in 2008. The new headquarters, which is due for completion in 2025, pushes the boundaries of parametric design, translating the tech specialist's brief into a striking, sculptural form that builds on the organic design language of their products.
By 2021, OPPO had secured its spot as the world's fourth largest smartphone manufacturer. The company's Find X series is available around the world, and includes the striking Find N foldable phone – with a creaseless screen – and the new Find X5 Pro, a premium smartphone. The latter incorporates camera technology developed alongside the Swedish photographic specialists Hasselblad.
Wallpaper* spoke to OPPO's Dr Xi Zeng, director of software design, and Patrik Schumacher, principal of ZHA, about the forthcoming new building, the company's new technology, and the symbiosis between smartphone design and contemporary architecture.
We started by asking Schumacher about the design principles that underpin the work of ZHA. 'Our work has definitely evolved. It started with an interest in complexity,' Schumacher says. 'We were looking at different social spaces, dense urban spaces, but always maintaining a legibility of composition that can be instinctively grasped. We combine this easy orientation with the thrill of design.'
Xi Zeng explains that 'the architecture and phone industries are quite similar in terms of dealing with massive complexity', noting that although architecture is timeless, mobile design has become quite transient. That said, the increasing importance of pocket-sized communications and computation technology make each discipline reliant on the other. 'You can't have organic design without computing technology,' he says, pointing out that OPPO strives to 'digest complex technology for our users'. The mobile phone has always undergone a seismic shift in the role it plays in society. 'Your phone needs to showcase what you stand for,' Zeng says.
The OPPO HQ represents ZHA's ongoing design evolution. 'Our buildings tend to evolve in series,' says Schumacher. 'The use of glass is refined and extraordinary,' he adds, pointing to the studio's design for The Henderson tower in Hong Kong as an earlier exploration of a dramatically curved façade. OPPO's HQ takes the form of a cluster of four interconnected towers, the tallest of which reaches 200m, all rising above a new plaza at street level. The pebble-like surfaces of each tower are formed from a combination of curved and straight glazing, giving the impression of a unified structure that flows together. As well as the public space beneath the 185,000 sq m offices, a new Sky Plaza and Sky Lab will give dramatic views across Shenzhen Bay.
'All design disciplines are about giving form to function, but buildings are also about framing conversations,' Schumacher continues. 'We want a seamless discourse.' From the earliest days of the practice, founded by the late Zaha Hadid in 1980, the ever-evolving nature of architectural tools has helped bring its architectural visions to life. 'We're still developing our tools,' Schumacher admits. 'We have internal research teams, PhD students, everything.' Whether it's new software, prototyping, robotic fabrication, or the as-yet uncharted landscapes of the Metaverse, Schumacher believes ZHA will be at the forefront.
'The mobile phone used to be a tool, for sure,' Zeng concurs, 'but now it's different. Of course you can use your phone for communication, but also to create content. It's such a symbol of who you are.' Zeng likens the phone's image to that of car culture. 'A car is more than just a car,' he says, 'just like a phone is more than a phone.'
Is a building more than a building? 'A core competency for all designers is communication,' says Schumacher. 'Building is a way of expressing the contemporary social condition. You can trust an object when it is highly refined, almost as if it is an organic creature.' Schumacher believes his studio's architecture conveys a 'sense of perfection', something that's essential if its work is to 'maintain trust in the face of novelty.' 'We are geared to work on the frontier of the avant-garde,' he admits, pointing out that architecture can create a sense of awe and wonder. The dramatic internal atrium in the proposed HQ is a case in point; as the intersection between the towers, it allows workers to see the inner workings of the company on a dramatic scale.
For Zeng, industrial design has three stages. 'Firstly, we have to solve the problem. Then you also have to deliver your message. But the most important part is the last one – to inspire.' OPPO's core values of innovation and elegance are manifested in every project, albeit in subtly different ways. 'We want to connect people through the power of technology,' Zeng says. 'Right now, smart devices are the best way to achieve this purpose. Maybe in the future it'll be another new technology. We have a huge research institute looking into this. Design will be the bridge between technology and users.'
The OPPO Find N with its highly engineered hinge is a case in point. 'Phones are not limited to traditional shapes,' Zeng later tells the audience at OPPO's Design in Tech Workshop at the Victoria & Albert Museum in London. OPPO worked on six generations of foldable devices and experimented with a range of form factors, hinge designs, screen materials, and display ratios. It took five years of research to bring the Find N to market. Alongside the OPPO X 2021, a rollable phone, Find N showcased these new approaches.
As Neil Monger, product marketing manager from OPPO UK, explained, the hinge mechanism alone went through over four years of research and development before the 'water drop' form was perfected to minimise the visual crease. It uses 136 parts as opposed to the 60 parts of a 'conventional' hinge and costs four times as much to manufacture, but the seamless results put OPPO ahead of the industry. OPPO Find N scored two wins at the iF Design Award for product design and experience.
Such research and exploration is a key part of Zaha Hadid Architects' day-to-day, as Schumacher explains. Although the studio has its origins in the avant-garde, its role as innovator continues on a more public, high-profile scale. 'The avant-garde is a permanent fixture of our culture, which is strongly rhythmical,' the architect says. 'We're in a post-revolutionary period for architecture right now.' According to Schumacher, revolutionary figures like Frank Gehry and Hadid herself helped transform the image of the modern architectural profession through their combination of digital processes and new approaches to form-making, just as the Bauhaus in the 1920s was driven by artists looking for new forms of self-expression. Schumacher points out how this aesthetic eventually became corporate and commoditised, even though its ideas continued to evolve. 'Le Corbusier and Gropius had big offices and corporate jobs, but they were still avant-garde,' he notes.
The cultural impact of the studio's innovative architecture is still felt around the world. 'ZHA's buildings opened my mind,' Zeng admits. 'There's something natural and organic about them that grows from the earth. At OPPO, we also tried to draw inspiration from nature and apply the elements into our product design.' On a practical level, this organic approach inspired elements like the volcano-like camera in OPPO Find X5 Pro, a raised microcrystalline ceramic element that is both aesthetically pleasing and ergonomically sound. Curves could also be found in OPPO Enco series earphones with its cobblestone-like design, suitable for a tight grip while creating a comfortable experience.
'Elegance flows from the ultimate attention to detail. We go over every possible technical obstacle in detail and strive for simplicity and elegance in design, ' Zeng says.
Zeng, who spent time studying in Barcelona, also cites the work of Antoni Gaudi as inspiration for his design. The synergy between innovation and elegance is epitomised by the latest version of OPPO's operating system, ColorOS 13. At its heart is what the company describes as an 'Aquamorphic Design' language, drawing inspiration from the fluid forms of nature, just like ZHA's digitally sculpted towers. 'Aquamorphic Design injects a vitality of life to ColorOS 13,' Zeng highlights.
What's next for OPPO? Within a few years, the company will take ownership of its new headquarters structure, by which time the fast-moving world of smart device design will have seen many more iterations of our favourite devices. Although phones don't seem like they'll lose their status as essential tools of communication and creativity, OPPO's emphasis on elegance, innovation and research, implies that the company will remain on the cutting edge. Schumacher is similarly engaged about the world of tomorrow. 'I believe in being forward-looking and optimistic,' the architect says, enthusing about the potential of what he calls the forthcoming 'cyberurban fusion', a blend of virtual and physical space where the phone is just the beginning. 'We're living in exciting times,' he says, 'firms like ours are on the frontier.'
oppo.com (opens in new tab)
Jonathan Bell has written for Wallpaper* magazine since 1999, covering everything from architecture and transport design to books, tech and graphic design. He is now the magazine's Transport and Technology Editor. Jonathan has written and edited 15 books, including Concept Car Design, 21st Century House, and The New Modern House. He is also the host of Wallpaper's first podcast.