W* talk to Saab's head of design Jason Castriota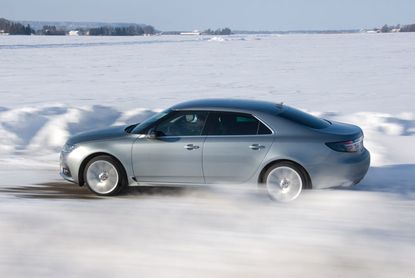 (Image credit: Jason Castriota)
Saab had a near-death experience late last year at the hands of GM but now the world's most enigmatic Swedish car brand is back in business with a Dutch supercar brand owner (Spyker), new product (the 9-5) and a new design vision to boot.
Wallpaper* caught up with 36-year old New York-based Jason Castriota – the ex-Bertone and Pininfarina designer responsible for the exterior of the Maserati Gran Turismo among others – and now Saab's new head of design, to ask what he's working on, classic Saab influences and why Mini had better watch its back.
What's your design vision for Saab?
I'm after that 'jet on the road aesthetic'. I want to recuperate Saab's aeronautical roots including that double teardrop shape from its fantastic history that has been diluted in recent years. But it will be done with a thoroughly modern take. Saab has good rivals so we need to do something very distinctive.


What are the definitive classic Saabs from your point of view?
Almost the entire range really. The 92, 96, 98, 99 and 900 are burned into my mind, from the aero-inspired lines of some of the earlier models to the sportiness, utility and distinctive proportions of the 900.


What was the first assignment in your new job?
My pitch to get this job was the next 9-3. I presented it at the time of the New York auto show in April 2010 and the deal was sealed. Some of the architecture has evolved from an existing GM platform but what started as re-skin ended up as a new car. I didn't want to throw the baby out with the bathwater as there have been some great Saab concepts in the last decade that couldn't be seen through, but at the same time I'm not here to baby-sit what was here before either. With the 9-3 we need something much bolder. You can't go into a knife fight with a wooden spoon.


So what can we expect from Saab next?
At the LA show this year you'll see the production 9-4X based on the 2008 concept, followed by the 9-5 wagon in 2011 plus a new concept from me in the same year before the production 9-3 arrives in 2012. It's a tight timeline to get that 9-3 right! Afterwards my next homework assignment is a new small Saab.


Can you reveal a bit more about this small Saab?
It will be called either the 9-1 or 9-2 and be a Mini Cooper size and segment rival. It's a product for customers to buy into the brand with, maybe their first real car purchase before hopefully moving up the Saab range.

Guy Bird is a London-based writer, editor and consultant specialising in cars and car design, but also covers aviation, architecture, street art, sneakers and music. His journalistic experience spans more than 25 years in the UK and global industry. See more at www.guybird.com