Trick or treats: Wallpaper's pick of the finest Halloween candies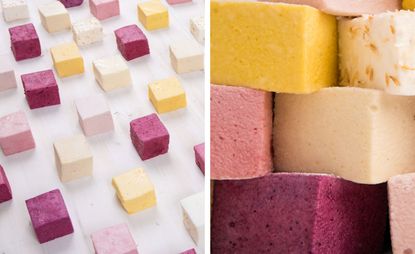 (Image credit: TBC)
With Hallowe'en just around the corner, we've compiled a list of the more sophisticated candies to dig your teeth into this year. Step aside with your mealy toffee apples – there are new sweets in town.

'Pop 22' is a sugarpop collaboration between Toronto-based maple sugar enthusiasts Ninutik (opens in new tab) and Canadian chef David Chrystian. Chrystian created the 'Original Toronto Spice Blend' – a fragrant spice mixture that has been combined with the spherical maple sugar pop to create a sweet and spicy treat.

For the more traditional Hallowe'en enthusiasts, The Marshmallowist (opens in new tab) has developed gourmet marshmallows in alluring flavours such as raspberry and champagne, basil and strawberry, and blueberry and gin. Fresh market fruits, organic herbs and boutique alcohols are key elements of these soufflé sweets. Perhaps the biggest seasonal draw is a new spiced pumpkin and maple sugar seed flavour, created specially for the day they fondly refer to as 'Malloween'.

Scottish brand Coco Chocolatier (opens in new tab) also draws the eye with its bold patterned packaging and daring flavours, such as black pepper and rose. With a luxuriously heady 96 per cent cocoa bar and locally sourced ingredients (including sea salt from the Isle of Skye), Coco Chocolatier is a firm favorite with Scottish sweety aficionados. Superfood chocolatier Doisy and Dam (opens in new tab) has also launched a new 30% chocolate range, complete with wacky but healthy flavours from quinoa, smoked tea and vanilla to coffee and sprouted buckwheat.

Whether mouth-watering maple sugar or a hallowed mallow, it's sure to be a pretty sweet October.
INFORMATION
For more information visit The Marshmallowist (opens in new tab), Ninutik (opens in new tab), Coco Chocolatier (opens in new tab) and Doisy and Dam (opens in new tab)