Time-warp: the Goodwood Revival motoring festival celebrates its 17th year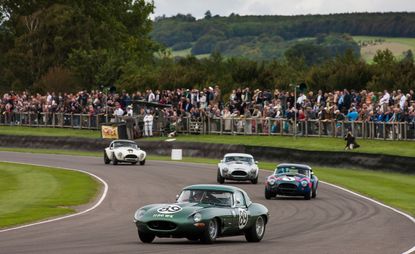 (Image credit: press)
For one weekend every September, a little piece of England goes back in time to celebrate the golden age of motor racing. Even before you enter Goodwood's historic racing circuit gates on the south coast near Chichester, the feeling of time-travel starts to hit home. As we arrive outside, the vehicle before us in the drop-off queue is an old Second World War army truck. Once the handbrake is on, the driver – in a full British military uniform – rushes straight round to the back, opens up the canvas flaps and helps his glamorous period-costume lady passengers disembark via a rickety old wooden ladder. No-one bats an eyelid. Because we're at the Goodwood Revival… (opens in new tab)

Once inside, the vast majority of visitors are dressed up in fashions that would have been typical of Goodwood's golden age as a racing venue from 1948 to 1966 and come to the annual event – now in its 17th year – to watch classic cars race, revel in a little nostalgia and maybe buy a pair of string-backed gloves or a vintage petrol pump from one of the many stalls that surround the track.

It's not just for old folk either. Young, or young-at-heart, hipsters get to show-off the current state of their large and twirly moustaches and beards, teamed up with outfits more suited to the decades their facial hair styles were invented for; 1950s throwbacks show off their latest vintage wardrobe finds; and there's even a classic pedal-car race for the kids. Everyone seemed to be having fun, and taking the fashion seriously, if not themselves.

Forget the teeming masses at the associated Goodwood Festival of Speed (opens in new tab) earlier in the summer – all SuperDry T-shirts, plastic VIP lanyards and branded goodie bags – the Revival held at Goodwood's racetrack, rather than its house and estate, is a much more sophisticated sartorial affair. The track and paddocks, that you can get unusually close to, feature an awesome and always beautiful array of rare 1950s and 60s racing cars – including classic Ferraris, Jaguars and Maseratis – that are often raced by equally limited edition racing driver legends, and in a fashion belying the fact that each is worth hundreds of thousands (in some cases millions) of pounds. There's even an onsite branch of Tesco with old-school exterior signage and Green Shield Stamps on offer inside.

Get into character and a you'll have a weekend like no other, whether you're a devoted classic car fan or not.
INFORMATION
For more information visit Goodwood Revival (opens in new tab)