Sensuous scents: Le Labo reveals new Thé Noir 29 fragrance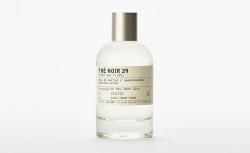 (Image credit: press)
Cult perfumer Le Labo has revealed an all-new scent, based on a unique extraction of black tea leaf alongside a combination of bergamot, fig, bay leaves, cedar wood, vetiver and musk. The result? An addictive and sensuously dry, smoky essence.

Thé Noir 29, the new scent, is utilised over a range of products – not only a conventional perfume, available in several sizes, but also as a travel tube kit, a perfume oil and a liquid balm (as well as a body lotion, body oil and shower gel).

The full-bodied blend contains – as the name suggests – 29 ingredients. As with all of Le Labo's scents, the fragrance is hand blended and prepared on site at the company's New York City hub. Priding itself on the quality of ingredients, the company spares no expense in the developmental process, which can take up to two years. Not overlooking the personal factor, each bottle is stamped with the wearer's name and a use-by date, further emphasising the uniqueness and quality of the scents. It is precisely this dedication to freshness that sets Le Labo apart from ordinary perfumers.
INFORMATION
For more information, visit Le Labo's website (opens in new tab)