Don't sweat it: natural deodorants with cool packaging
We're going au naturel with these fresh-off-the-shelf deodorants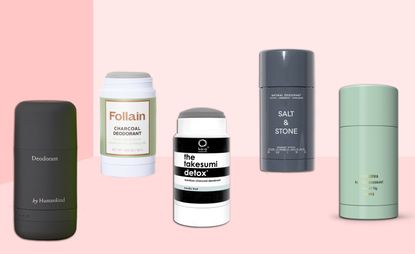 (Image credit: press)
By Humankind
Coming in two scents – eucalyptus and unscented, the all-natural refillable deodorant arrives in a 'first-of-its-kind', patent pending container that allows for paper pod-based refills. Good for your body as it is made with organically sourced plants and natural minerals, it's available to purchase in four colours– charcoal, off-white, neon and white. Refilling by Humankind's deodorant container decreases single-use plastic waste to 90 percent in comparison to other stick deodorant. A one dollar proceed of the purchase will go towards the removal of plastic waste in the sea.
Salt & Stone
Out in December, Salt and Stone's natural deodorants are developed to suit all skin types. This translucent formula is made to slide smoothly and does not leave a white residue on the underarm. With the addition of Hyaluronic acid, the skin feels moisturised while probiotics prevent odour. It's free from baking soda, parabens, aluminium, alcohol, synthetic fragrances, and dyes, and come in a variety of three scents – lavender, sage and rosemary, vetiver, lemongrass and sandalwood, eucalyptus, pink grapefruit and bergamot.
Follain
Follain deodorant's main ingredient – bamboo charcoal, helps to detoxify whilst absorbing excess oils and impurities. Without the addition of baking soda – instead using corn starch, your underarms will stay feeling fresh, dry and free from irritation. Tea tree leaf oil is another advantageous ingredient as it prevents odour-causing bacteria with the added benefit of keeping you smelling great.
Kaia Naturals
Kaia Naturals have created a deodorant formula that activates charcoal, an ingredient that removes the toxins from our pores and represses odour-inducing bacteria's. With an effortless glide, this vegan bamboo charcoal deodorant in lime mint does not leave white remains and contains essential oils made by an acclaimed perfumer. Kaia's other deodorant scents include black oak and bourbon, cold pressed rose, mandarin pomelo, Nordic frost and sakura blossom.
Corpus Naturals
Corpus Naturals have recently launched their new fragrance 'California' in tribute to founder J.P. Mastey's birthplace – Los Angeles. The warm and fresh scent has an unusual depthness to it with notes of white musk, bergamot, sea salt and jasmine. Created as a representation of the complexities of LA, Mastey highlights how the city is more than just an outsider's imagery of Hollywood fame and culture. 'My hometown of Los Angeles is embedded with personal history that's not the LA of postcards and paparazzi.'
INFORMATION
corpusnaturals.com
byhumankind.com
follain.com
kaianaturals.com
saltandstone.com
Receive our daily digest of inspiration, escapism and design stories from around the world direct to your inbox