StyleShoots tabletop photo studio, by iShopShape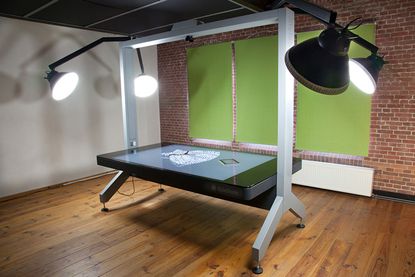 (Image credit: press)
Our growing predilection for augmenting our wardrobes from the comfort of the sofa has created a demand for relatively artless but labour-intensive photography. A huge supply of cut-out fashion imagery is required to feed on-line retail sites, which makes behind the scenes something of a photographic production line, manned by photographers, stylists, digital operators, who together adjust the lighting, the environment, the focus, and cut out each image. For the larger companies the team will be in-house, while smaller operations might outsource the work.

But the Dutch fashion entrepreneurs at iShopShape (opens in new tab) are set to change all this. They have come up with revolutionary time saver, StyleShoots® (opens in new tab), a simple yet powerful tabletop photo studio consisting of camera (Canon (opens in new tab) Professional DSLR), lights (Bowens (opens in new tab) daylight) and staging, entirely controlled by an iPad. The results are ultimate resolution images, cropped and ready for the web in just twenty seconds.

With just a flick of a switch, the new Auto Alpha™ algorithm captures two images: one with almost 4000 LEDs on (creating an over exposed image) and one full product image, with the LEDs off. The two images are morphed together, with every pixel is analysed, and the perfectly cut out final shot has full alpha transparency - no need for retouching or laborious postproduction work.

Working at such speed allows for in excess of one hundred images a day, more than twice the turnover of a traditional photographer. In an industry where time is most certainly money, the numbers speak for themselves. A company outsourcing around 1500 images a year can expect to pay in the region of £30 per shot, or a thrifty £2 per shot using in-house Styleshoots®.