Confectionary couture: Pasticceria Marchesi opens a third shop in Milan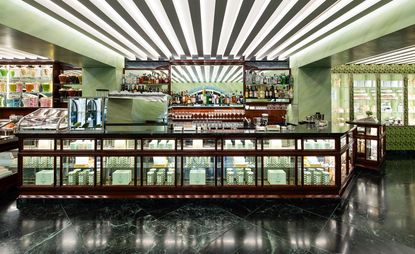 (Image credit: TBC)
If you ever need to survey the perpetual appeal of pastry, Pasticceria Marchesi should be your first point of call. Servicing the sweet-toothed of Milan since 1842, the Marchesi name is inextricably tied to Italian tradition and the eternal relevance of café culture.

Located in the hub of haute couture, Pasticceria Marchesi's third shop has just opened on the mezzanine floor of the majestic Galleria Vittorio Emanuele II. The new location is lined with arched windows that afford patrons charming vistas of frescoes and the mosaic pavements of the Galleria.

Housed in the same building as Prada's Men's store, the Prada Group's influence on Pasticerria Marchesi – it owns the brand – is evident in its aesthetic, which interweaves fashion with food and art to create a sensual triptych.

The walls are adorned with a deep green Venetian plaster that's covered in part with a floral silk jacquard fabric, lending a textured elegance to the interior. In keeping with the green theme are the alpine marble floor and chair furnishings – evoking the exclusive intimacy of a secret garden. The ceilings, with exposed wooden beams, also emulate the original style of the via Santa Maria alla Porta.

Moulded on the Marchesi shop on Via Monte Napoleone, part of the space is a tea room, offering a host of hand-prepared cakes and other confectionary delights throughout the day. Customers can also unwind with an evening cocktail; apt considering Pasticceria Marches's new spot exudes socialite sophistication.
INFORMATION
For more information, visit the Pasticerria Marchesi website
ADDRESS
Pasticerria Marchesi
Galleria Vittorio Emanuele II
20121 Milan