Page turners: 10 new titles to add to your shelves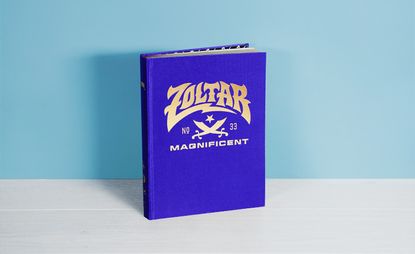 (Image credit: Trolley Books and Writer: Katrina Israel)
Carlo Scarpa By Robert McCarter
Of all the modernist masters, Carlo Scarpa has perhaps been least well represented by the contemporary publishing industry. While his oeuvre is expansive, many of his best-known jobs are characterised by an extreme attention to detail and a level of craft and material understanding that doesn't translate well to the page. With this new monograph, Phaidon is hoping that through scale, solidity and meticulous design, the Italian architect's approach can be better understood - and savoured. The book itself becomes an extension of the work.

Published by Phaidon, £75
Writer: Jonathan Bell

From the book: Carlo Scarpa's first glassworks can be identified by their cone-shaped foot - an invention of his - and the consistent use of pure geometric forms. Pictured is 'Vaso Transparente', 1926, a globe-shaped clear vase with a blue truncated cone base. Courtesy of Archivio Barovier
Scarpa was commissioned in 1950 to make changes to the Italian pavilion, Venice's largest Biennale building. Creating a new rectangular courtyard within the existing building, the architect installed a concrete canopy structure where visitors could relax between exhibits. Courtesy of ORCH Orsenigo Chemollo
Scarpa was hired to enlarge the Canova Museum in Possagno, dedicated to the works of neoclassical sculptor Antonio Canova. Pictured is a view of the western gallery with two inwardly projecting, steel-framed windows, a subtly modern addition to the traditional museum
Castelvecchio Museum renovations, entrance arch with a deeply recessed glazed foor and projecting L-shape wall
Malicious Damage: The Defaced Library Books of Kenneth Halliwell and Joe Orton
Joe Orton's playwriting career wasn't his first great artistic endeavour. Together with his lover Kenneth Halliwell, Orton would venture into Islington Library and plunder the stacks for interesting tomes. These would be taken back to their flat on Noel Road, modified - plates removed, covers defaced (or enhanced) - and generally messed about with in an ongoing project that lasted three years. Orton and Halliwell were sentenced to a career-defining six-month stretch in prison. Malicious Damage chronicles the incident and the results of their 'project'.
Published by Donlon Books, £35
Writer: Jonathan Bell
Amber, Guinevere and Kate photographed by Craig McDean
By Craig McDean, text by Mathias Augustyniak and Glenn O'Brien
Craig McDean's new monograph pays glowing tribute to three of fashion's top models - Amber Valetta, Guinevere van Seenus and Kate Moss - with rich portraits, shot entirely on film. In a refreshing throwback, McDean strips his muses of today's hyper-glossy pretense with the virtuous click of the shutter. The volume features never-before-seen images, contact sheets and outtakes from his most recognised shoots. Texts by Mathias Augustyniak, of M/M Paris (which designed the book), and author Glenn O'Brien add depth and insight.
Published by Rizzoli, £60
Writer: Jessica Klingelfuss

From the book: A mixture of Craig McDean's most memorable commercial and editorial work with his three supermodel muses features in the new tome. Here, Guinevere Van Seenus stars in Jil Sander's S/S 1996 campaign © Craig McDean
A portrait of a fresh-faced Kate Moss, which originally appeared in British Vogue's January 1997 issue © Craig McDean
McDean photographed Amber Valletta for Yohji Yamamoto's A/W 2000 campaign © Craig McDean
Thierry Dreyfus
Back in 2011 we recruited legendary lighting designer and Wallpaper* collaborator Thierry Dreyfus to take on his first editorial photography commission (see W*152). The French designer had been privately shooting for some 20 years, and in this beautiful new tome – Dreyfus' first – his inimitable eye for light really gains focus. The book, with text by Dominique Baqué, is a showcase of his 'intense visual relationship with the world'. For a designer who works strictly with analogue cameras and forgoes all digital retouching, the medium is most fitting - after all, photography is derived from the Greek words for 'light' (photos) and 'drawing' (graphos). Dreyfus has produced some of fashion's most memorable catwalk shows - and even more monumental lighting installations - but this monograph is the designer at his purest.

Published by Editions du Régard (opens in new tab), €40

Writer: Jessica Klingelfuss

Emerald
By Joanna Hardy, Hettie Judah and Jonathan Self
Twenty times more rare than a diamond, the emerald has rightfully been the subject of envy throughout the ages. Thames & Hudson's beautifully presented Emerald, with a preface by Vogue Italia editor-in-chief Franca Sozzani, is the definitive guide to the world's most precious gemstone. Delving into the archives of jewellery houses from Boucheron to Bulgari, it showcases more than 200 pieces - many from previously unseen private collections. Tracing notable devotees, from Catherine the Great to Elizabeth Taylor, the comprehensive edit also explores Cleopatra's lost emerald mines in the Sahara.
Published by Thames & Hudson (opens in new tab), £75

Writer: Katrina Israel
Karma
By Oscar Monzón
Lurking around in car parks after dusk isn't our preferred weekend hobby, but for photographer Oscar Monzón this was clearly the best strategy available to him. Karma isn't just about sex - it dives into a host of (mostly covertly captured) in-car behaviours for an anthropological study of behaviour most of us treat as totally private.
Published by RVB Books, €95
Writer: Jonathan Bell
Critical Mass
By Michael Danner
Photographer Michael Danner has undertaken a photographic survey of the German nuclear power industry. While this is by no means a polemic, his steady eye and unrelenting ability to conjure up both beauty and banality shows the industry for what it is, a prosaic and humdrum business running under pressure of political and environmental opposition. Germany has 17 nuclear plants and no real desire to power them down. However the Fukushima disaster has transformed public opinion, potentially sealing the industry's long-term fate.
Published by Kehrer, €39
Writer: Jonathan Bell
All That Is Solid Melts Into Air
By Jeremy Deller
Accompanying the exhibition of the same name, All That Is Solid Melts Into Air sees Jeremy Deller co-opt Marshall Berman's classic exploration of modernity and commerce. The result is a historical travelogue that explores the emergence of popular working-class culture in the face of the challenges of the Industrial Revolution. Deller's work has always had an element of folk history, and his archival skills are here pushed to the fore.
Published by Hayward Publishing, £14.99
Writer: Jonathan Bell
Giambattista Valli
When Giambattista Valli was approached to create a coffee table book, he hesitated at first; having launched is eponymous label only a few years earlier, in 2005, he was reluctant to do a typical retrospective. Instead the Rome-born designer embarked on a behind-the-scenes journey into his creative process. With an opening watercolour portrait of Valli by Francesco Clemente (which hangs in the designer's Paris studio), the reader is instantly drawn deep inside a rarified world. Between fabric covers, Valli shares his obsessions, from the artwork of Alberto Burri to Little Red Riding Hood; his inspiration boards; backstage candids; and expressive illustrations of his frothy couture confections. Contributors include Hamish Bowles, Diane Kruger and Lee Radziwill.
Published by Rizzoli, £62.50
Writer: Katrina Israel
Characterised by their lightness, his fetish materials - gazar and organza - have a life of their own, giving them the vibrant energy that makes his designs so distinctly dynamic
Melina Keays is the entertaining director of Wallpaper*. She has been part of the brand since the magazine's launch in 1996, and is responsible for entertaining content across the print and digital platforms, and for Wallpaper's creative agency Bespoke. A native Londoner, Melina takes inspiration from the whole spectrum of art and design – including film, literature, and fashion. Her work for the brand involves curating content, writing, and creative direction – conceiving luxury interior landscapes with a focus on food, drinks, and entertaining in all its forms
You might also like
Chic peas: new art cookbook charts a history of hummus

On the Hummus Route traces a utopian track between cities, people, markets and dinner tables. It documents street food in nine Middle Eastern cities, including Cairo, Jerusalem, Gaza, Tel Aviv, Jaffa, and Damascus, and in doing so, offers a fascinating insight into the area's design, food, and culture

By Elly Parsons • Last updated
View More ▸