The sweetest thing: Krakow's new patisserie Nad & Greg is a haven of good taste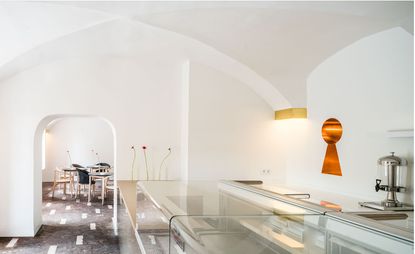 (Image credit: TBC)
The success of a company's branding largely comes down to how well it can translate message into design without over-egging it.

French-style patisserie Nad & Greg has masterfully perfected this balancing act with its recently opened shop in Krakow.

Located in a chamber space on the ground floor of an early 20th century tenement house on Krakow's Market Square, the designers tasked with the conception – Bartosz Haduch and Łukasz Marjański of design studio NArchitekTURA – decided to embrace and honour the site's heritage by bringing its monolithic features to the fore, opting for restoration over revamp.

The design decision dovetails perfectly with the patisserie's founding principles, which champion traditional techniques and craftmanship. Nad & Greg combines a knowledge and love of pastry to perfect a plethora of handcrafted Belgian and French confectionery delights – eschewing the use of modern machinery in the process.

Lovingly prepared with natural ingredients, the menu offers an assortment of dainty bites, from French classics such as mille feuilles, to tarts such as the façon crème brûlée – a crunchy pastry melding crème brûlée with Madagascan vanilla and salty caramel sauce. The 'Tour de France' section offers a tasty tour of the country's regions, including a stop-off at Normandy for the choux pomme tatin – ganache with vanilla and white chocolate, enclosed in a puff with caramelised apple.

The pureness of Nad & Greg's philosophy is echoed in the distinct minimalism that runs throughout. Haduch and Marjański have restored the marble stone floor and accentuated the cross vaults with discreet lighting. The keyhole motif perforated into the wooden shutters and cavernous walls connects the spaces and adds an almost fairytale quality to the patisserie – most apparent in the golden room, which serves as an ode to the artistry of Yves Klein. The bulbs displayed directly on the walls fill the space with a rich warmth.

Nad & Greg expertly illustrates how the relationship between a brand and its design is best viewed as a relationship – it requires mutual respect, understanding and occasionally taking a humble backseat in the search for success.
INFORMATION
For more information, visit Nad & Greg's website
ADDRESS
Nad & Greg
ul. Rynek Podgórski 11
Kraków