Chic chain: Alejandro García Urrutia's Creoquete takes a bite out of classic morsels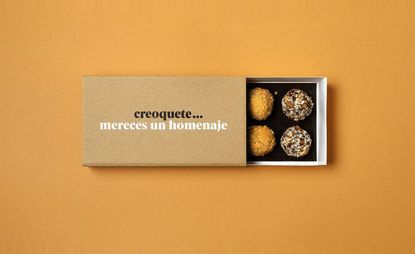 (Image credit: David Fernández)
The humble croquette is getting a gourmet makeover, courtesy of Valencian chef Alejandro García Urrutia.

Having garnered international success – and three Michelin stars – Urrutia has returned to what makes him happiest: simple, traditional foods with the ability to both comfort and amaze. Thus Creoquete, his chic chain of epicurean croquettes, was born.

Urrutia has turned the well known concept of the boutique chocolaterie – whereby bite-sized delights are elegantly displayed in a dedicated space – on its head with his selection of inventive savoury and sweet treats.

Aiming to appeal to as wide an audience as possible, Urrutia's recipes range from the classic ham and cheese varieties to more elaborate concoctions (chicken and Frankfurt sausage, beef casserole with sweet wine, langoustines in salsa verde) as well as sweet alternatives (rice pudding, cheesecake with strawberries and cookies, Nutella with crunchy hazelnuts), vegetarian options and even gluten-free iterations.

The store concept and branding, designed by Atipo, incorporates the texture of a croquette in a modern and playful manner. At once illustrative and amusing, the ellipsis is said to also represent three morsels while adding a playful twist to the naming of the brand. (The motto 'creoquete… encantan nuestras croquetas' translates as 'I think you will… love our croquettes'; the clever play on the French origins of croquer and the Spanish pronunciations of Creo/que/te.) The idea of texture comes into play in the physical stores as well: a stark juxtaposition between the earthy wooden counter – supposed to represent the crispy outershell of the fried bites – and the striking white storefront, reminiscent of creamy bechamel, provide a striking and contemporary twist to shops. Found in Valencia, Zaragoza and Gijón, all stores follow the same design.

The franchise's latest expansion comes in the guise of the Creoquete truck, just in time for the summer holidays and festivals.
For more information, visit the Creoquete website (opens in new tab)

Photography: David Fernández