Metereological mixology: Bompas & Parr launch Alcoholic Architecture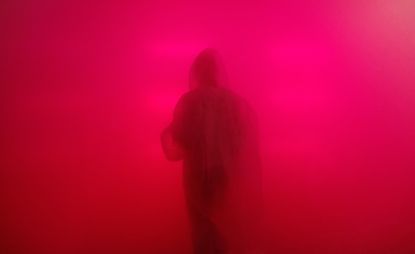 (Image credit: Photography: Ann Charlott Ommedal)
Now famous for their Willy Wonka-esque flavour-based experience designs and installations, the Bompas & Parr boys have taken on a new challenge: Alcoholic Architecture. It aims to 'explode drinks to the scale of architecture' through a meteorological installation at London's Borough Market. In layman's terms, they've made a cocktail cloud, a liquor fog, a booze storm.

The journey begins as you descend though dimly lit corridors and passages into the underbelly of what used to be an ancient monastery. The changing room has plastic ensembles to cover your clothing (and hair) before entering the crypt-like bar, which serves up a bevy of monk-inspired drinks like Chartreuse, Benedictine, Trappist beer and Buckfast fortified wine. From there, a short step and you're into the Cloud.

The dense atmosphere inside is slightly disconcerting, not least because of the modulated music which makes you feel a little as though you've fallen though the rabbit hole (or into your glass). Flashing lights build into a thunderstorm and the humidity is so high – 140 per cent – that you can't see more than a metre in front of you.

'The environment allows you to deconstruct and better appreciate the nuance and flavour of spirits as you enjoy them retronasally, rather mainly through your tongue,' explain Sam Bompas and Harry Parr. 'As well as absorbing alcohol through your lungs you will also take it through your eyeballs.'

There is little danger you will get absolutely wasted on spirit smoke though; visitors are allocated one-hour slots to keep alcohol consumption within a reasonable limit.

For those who want to up the ante and pay tribute to the heady contribution of monks to the world of mixology, there are a number of drinks – heavenly tonics, canonical cocktails, mystery meads and sacred shots created by Johnny Brissenden, formerly of Tony Conigliaro's Bar Termini and Soho House Group – to tickle your taste buds. Just remember: breathe responsibly.
ADDRESS
One Cathedral Street
Borough Market
London, SE1 9DE
Receive our daily digest of inspiration, escapism and design stories from around the world direct to your inbox