Bompas & Parr enlist designers to explore the architecture of death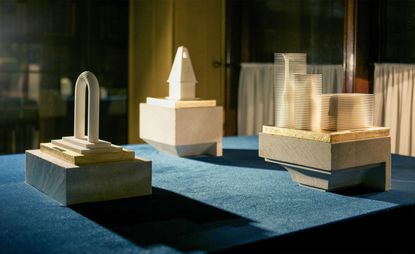 (Image credit: Ann Charlott Ommedal)
What will the tombs, cemeteries and mausoleums of the future look like? It was a question posed by London-based creatives Bompas & Parr after a visit to the sarcophagus of Seti in the basement of Sir John Soane's Museum. Inspired by the grandeur of the 1370 BC monument to death, the duo called on designers to create contemporary interpretations, and turned the ten best into 3D models.

The winning design is 'Tomb of the Past' by Sebastian Bergne, which features a column bent into an arch that 'acts as a doorway between past and future'. Other highlights include Deathlab/Latent's 'Constellation Park', a suspended urban cenotaph in which 5400 lives are remembered each year in short term shrines. Designer Shaun Clarkson created his own mausoleum featuring a glass sculpture of his own corpse, a bar, glitter ball and copper sarcophagus, and Ben Allen presented a 'Memorial To Lost Concentration', celebrating a time before constant media bombardment.

In addition to the models (which were recently auctioned by Christie's) drawings of a further 100 entries are also on show. Harry Parr, partner at Bompas & Parr, said: 'We were overwhelmed by the number of entries into the competition, and the quality of the submissions suggested the architecture of death is a neglected and underexplored aspect of design; one that's ripe for revival. Mausoleums are particularly interesting architecturally as they are removed from the usual practicalities required for human interaction in finished buildings, and allow you to ignore the usual rules.'

The location of the show is also fitting. Architect John Soane was a famed designer of funerary architecture creating mausoleums for the Dulwich Picture Gallery and St Pancras Old Churchyard (also home to his family tomb). As the winning design, Bergne's 'Tomb of the Past' is to be built in limestone and erected in a London cemetery. Here's hoping the two will end up next to each other.
ADDRESS
Sir John Soane's Museum
13 Lincoln's Inn Fields
London WC2A 3BP
Receive our daily digest of inspiration, escapism and design stories from around the world direct to your inbox
Emma O'Kelly is a contributing editor at Wallpaper*. She joined the magazine on issue 4 as news editor and since since then has worked in full and part time roles across many editorial departments. She is a freelance journalist based in London and works for a range of titles from Condé Nast Traveller to The Telegraph. She is currently working on a book about Scandinavian sauna culture and is renovating a mid century house in the Italian Lakes.