Local architects transform this French copperware factory into a culinary destination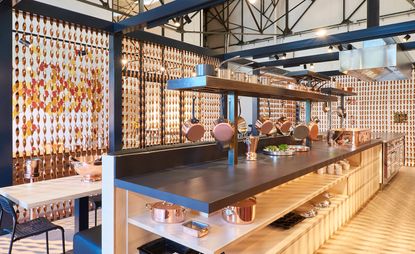 (Image credit: © D Delmas)
Erstwhile Wallpaper* Handmade collaborator and historic copperware specialist Mauviel1830 has given its home in Normandy a complete make-over – and we're eating it up. In situ1830 transports visitors into an adaptable and collaborative space, where gastronomy and design harmonise.

Throughout the newly refurbished factory – which accommodates tours, private dining events, and workshops with collaborative chefs – the effort of local craftspeople and architects sings. Locally sourced tiles dating back to the 1960s have been restored by the Normandy Ceramics society, and the structural, electrical and plumbing works were all completed by local contractors.
The factory is divided into showrooms with a private dining space, consisting of a 12 m long table, as well as a specially designed Bonnet cooking suite. Mauviel's signature copper is used for the permeable partitions that consist of twisted, double-helix shaped bands. They gleam in the showroom's light, and echo Mauviel's pride and glory: the similarly glistening pots and pans that hang above the culinary worktop. Throughout, tradition and modernity collide, through use of rustic wood and contempoarary polished metals that give Mauviel's products their timeless design.

In situ1830 puts Mauviel at the forefront of culinary finesse, considering all aspects of the discipline from gastronomic creation to dining. The factory even sells hampers of locally grown produce from the region. 'There is no point in buying good kitchen utensils if you cook with bad ingredients,' Mauviel's president Valérie Le Guern-Gilbert says. 'In situ1830 uncovers the highly-skilled manufacturing process of its utensils which contributes to exquisite Normand gastronomy that will forever run through the atelier's veins'.
INFORMATION
For more information, visit the Mauviel1830 website (opens in new tab)
Sophia Acquistapace is a contributor to Wallpaper*. She coordinated the brand's annual Handmade exhibition in 2019 and assisted with the introduction of Wallpaper* Re-Made the year after. Having written for a number of August issues that focussed on design that can enrich and endure, she has since been exploring accessible design in spaces and brands.