Lighting up the sky: Japan's Method Inc celebrates the summer with newly designed fireworks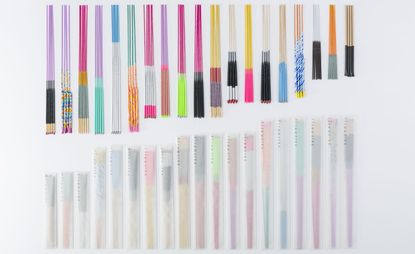 (Image credit: TBC)
Fireworks are an important part of having fun during Japan's hot and humid summers. Huge firework festivals and competitions take place throughout August, people dress up in Yukatas – a kind of casual, seasonal kimono – and bring snacks and drinks to enjoy the show. For children, sets of small handheld sparklers and fountains are shared among friends (in the company of at least one adult and a bucket full of water – safety first) and small gatherings at the local park or gardens are eagerly looked forward to across the season.

The quality of most of these toy-fireworks, as they are known, is usually rather poor – sparklers only last a few seconds or simply refuse to light up. Thus, Yu Yamada of the creative agency Method Inc (opens in new tab) teamed up with esteemed fireworks company Yamagata Co Ltd to produce a premium line of handheld illuminations.

The collaboration – this year celebrating its fifth anniversary – has resulted in colourful and long-lasting versions of the classic sparklers and fountains, with a few surprises thrown in. The simple semi-transparent packaging and the choice of select outlets that carry the products (design shops, fancy bookstores, etc.) sets the selection further apart from the cheap varieties sold in convenience stores throughout the country. What better way to enjoy the summer with friends? – and perhaps their kids too.