The Burrow: Lab100 designs Kuwait's most stylish boxing gym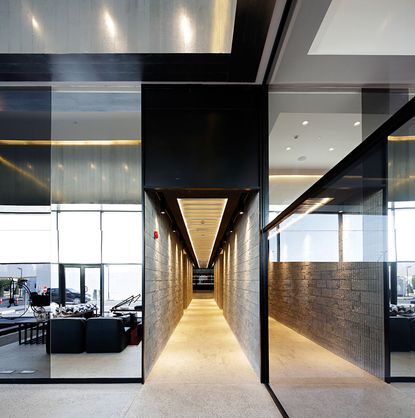 (Image credit: Nelson Garrido)
Boxing is on the rise. Or at least, stylish boxing gyms are. The latest of these to catch our design eye, The Burrow, has launched in Kuwait.

Designed by local studio Lab100 and inspired by the stark nature of retro boxing gyms, it's the first commercial endeavour of its kind in the region.

Cleverly combining an array of materials – including concrete, ceramic tiles, steel, curved glass and natural wood – Lab100 set out to guide visitors effortlessly though its facilities. Starting with the bright, airy lobby, a somewhat narrow corridor of glass and granite guides gym-goers past the locker areas and into the main workout hall. This is where the space really comes into its own.

'Emphasising a natural flow of movement was key', explains the design studio. 'And [maintaining] the element of surprise.'

Sitting in the middle of the 1,000 sq m space is the crowning jewel: an elevated boxing ring, dramatically lit from above by nine hanging pendant lights. Workout areas fan out around it; an elevated CrossFit area to one side, heavyset punch bags on the other.

Skylight openings on the northern wall of the building allows diffused light to trickle in, 'to guarantee a crisp day atmosphere that differs from the evening ambience', explain the designers.

Private classrooms are tucked away to the sides, offering a range of exercise options beyond the heavy combat sports of the sprawling main hall. A mezzanine level creates even more workout space and doubles as a balcony for clean views straight into the ring.
Information
For more information, visit The Burrow's website (opens in new tab)

Photography: Nelson Garrido
Address
The Burrow
6th Ring Road
Sahara Kuwait
Kuwait City
VIEW GOOGLE MAPS (opens in new tab)