Gentlewoman: a new feminine cologne from Juliette Has a Gun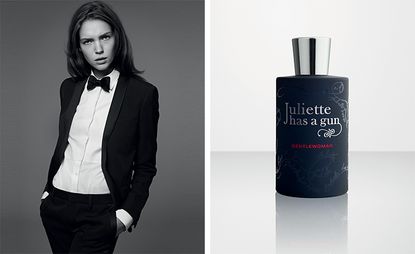 (Image credit: Sonia Sieff)
Romano Ricci, the French-born founder of Juliette Has a Gun (opens in new tab), comes from a rich and privileged background, with perfume in his blood. The great-grandson of fashion designer Nina Ricci, his grandfather set up Parfums Nina Ricci, and young Romano spent his childhood years hanging around the family perfume factory, where classic fragrances like Signoricci and L'Air du Temps were made.

Like plenty of rich and privileged young men before him, he went to business school and worked his way up a small company as a product manager, while maintaining a parallel career as a bit of an international playboy and part-time racing driver. He launched Juliette Has a Gun in 2005 with help from Francis Kurkdjian, one of the most talented, prolific and commercially canny perfumers around today.

The brand name was inspired by Romeo and Juliet and is based on Ricci's thoroughly French fantasy vision of a gamine femme fatale, while the perfumes reflect his refreshingly tongue-in-cheek approach to scent, with names like Lady Vengeance and Not a Perfume.

His latest launch, Gentlewoman, may sound like a tribute to the fashionable magazine, but there doesn't seem to be an intentional connection. What is intentional, on the other hand, is its clever – and largely successful – attempt to take a classic masculine cologne and give a feminine edge. Spray it on your skin and you immediately get the citrus freshness of neroli (derived from the flowers of Seville oranges), but that's quickly wrapped in a much softer, gentler scent of sweet almond, like marzipan or Bakewell tart.

It's an appealing and long-lasting combination, filled out with lavender, orange-blossom absolute and supersmooth synthetics such as Muscenone and Ambroxan, which is found in a couple of other perfumes from Juliette Has a Gun, as well as Frédéric Malle (opens in new tab)'s Géranium Pour Monsieur and Portrait of a Lady.

The advertising imagery for Gentlewoman is almost as clever as the perfume itself. Not only do the black-and-white photos of a young model in a men's-style dinner jacket reference Yves Saint Laurent's famously gender-bending 'le smoking' (recently celebrated at the Bowes Museum), they were also taken by Sonia Sieff, daughter of legendary photographer Jeanloup Sieff, whose 1971 portrait of Yves Saint Laurent naked became an icon of its time.
INFORMATION
ADDRESS
4 rue de la Terrasse
75017, Paris
VIEW GOOGLE MAPS (opens in new tab)