Fresh face: Fornasetti introduces new looks and scents to candle collections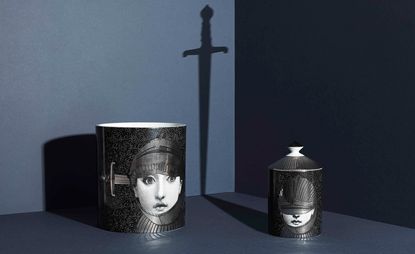 (Image credit: Fornasetti)
Five fresh new façades and one new fragrance are lighting up Fornasetti Profumi's scented candle collection this September; the enigmatic face of Italian-born opera singer Lina Cavalieri taking on three new guises – each more mysterious and beguiling than the last – a new architectural set and a rather novel addition to the 'Pennini Nero' collection.

New both inside and out, the 'L'Eclaireuse' candle design features Cavalieri's famous visage in two different forms – a bejewelled princess on one side, a free-spirited pirate on the other – with a brand-new woody scent within, 'Mistero'. Blended by the famous Grasse fragrance house Robertet, it exhales subtle scents of pepper and cypress, made intense with notes of incense, laurel and geranium.

All other new additions focus on the design of the ceramic containers, opting to house the now iconic Fornasetti scent 'Otto', which utilises Mediterranean herbs like thyme and lavender alongside a deeply spiritual combination of cedar wood and incense.

The 'Armatura' collection presents Cavalieri in a shiny platinum armour helmet, with a matching sword. The 'Golden Burlesque' design brings a new glint to the existing 'Burlesque' collection by way of gold highlights – a playful netted veil or gleaming visor masking Cavalieri's face.

A new addition to what the Italian brand calls 'one of the most stylish designs in the collection', 'Pennini Nero' features a rhythmic interchange of gold and silver pen nibs on a black background.

Taking an architectural approach, the 'Ordine Architettonico' collection introduces a set of three candles, inspired by the influential architecture of Andrea Palladio.

Available as of September, the new additions are nothing short of classic Fornasetti imagination.
INFORMATION
Fornasetti scented candles, 10.5oz from £125; 67oz from £440. For more information, visit the Fornasetti website

Photography courtesy Fornasetti