'Flavanone Mud' for 'NIOD': Deciem create skincare for the hyper-educated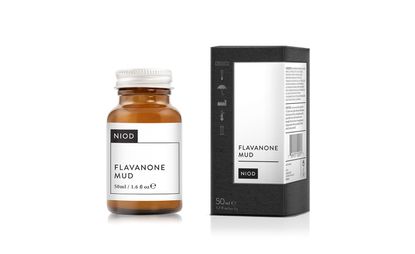 (Image credit: TBC)
Deciem, which is perhaps best known for living true to its slogan, 'The Abnormal Beauty Company', does everything other beauty companies don't do. Founded by Brandon Truaxe in 2013 – with products including the 'HIF' haircare range impatiently waiting to be born – its latest addition comes in the form of 'NIOD', the name short for 'Non-Invasive Options in Dermal Science'.

With growing anticipation (and waiting lists), NIOD recently introduced a new offering to its ever-growing product line-up. 'Flavanone Mud' is a fresh take on the face masque.

This three-phase rinse-off dermal congestion system was cleverly designed to respect dermal integrity by neither disrupting the skin surface equilibrium nor its density; a side-effect conventional masques can produce due to the use of aggressive clays, acids and exfoliation mechanisms, all of which 'Flavanone Mud' avoids completely.

In three steps, the tingling formulation – which only requires a very thin layer to be applied to the face – purifies, protects and responds to the skin's long-term concerns. Black Amazonian clay, a sedimentary white clay and copper rich Brazilian clay remove surface impurities. In its second phase, sea microorganisms, found in Polynesian coral reefs, shield against an external build-up of urban pollution. Resveratrol, derivatives of bitter orange peel and bisabolol, the primary component extracted from chamomile essential oil, protect against premature ageing and inflammation.

In its final and most important, responsive phase, 'Flavanone Mud' supports the skin's health and longevity. The presence of flavanone, derived from citrus peel, aids dermal detoxification; and Omega-9 rich oleic acid enables skin to form a radiant glow. While results are visible immediately, these will become more evident within 24–48 hours and improve in the initial weeks, demonstrating that 'Flavanone Mud' offers long-term satisfaction rather than being fabricated through short-term inflammation or peeling.

In doing so, 'NIOD' proudly stands out amongst the rest the haute-skincare crowd by presenting an entire new product category itself, as 'Flavanone Mud' refuses to sit obediently in the classic masque box category. Rather, it revamps the traditional face masque, creating a product not only for the hyper-educated but also for the hyper-authentic, that won't follow the crowd just yet.
INFORMATION
'Flavanone Mud', 50 ml, from £29.00. For more inforation visit NIOD's website or shop via Victoria Health website