Winter formulas: our guide to tipples to make your topple
Our collection of festive flavours features an eclectic array of beverages and formulas for this winter season – from eco-friendly red wine stain remover to the world's first-ever carbon negative spirit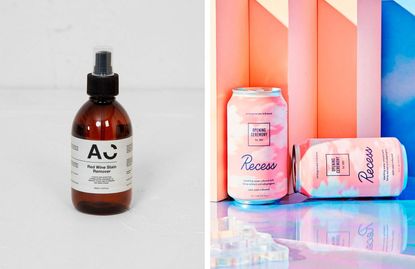 (Image credit: press)
Mount Gay Pot Still Rum
Considered to be the oldest rum distillery in the world, Mount Gay have released their second limited edition collection: Mount Gay Pot Still Rum as part of their Master Blender series which celebrates their past in rum-making. The new rum collection is distilled in Mount Gay's double retort pot still where master blender Trudiann Branker selected a batch distilled in 2009 and stored in a virgin ex-whiskey cask to intensify the spicy and roasted nut flavours six months prior to bottling the liquid. 'For this release, I wanted to showcase pot still rum in its truest form, to be highlighted for its complex nature — aromatics and taste — and show how delicate and balanced this crafted liquid can be.'
Rémy Martin X.O. Gift Pack
The limited edition collector's gift pack includes a 70cl bottle of the iconic Rémy Martin XO release. Contained in a luxurious red box, the bottle has a gold leaf foil design. Smooth and rich in flavour with layers of complex notes, it's made with a careful blend of the finest eaux-de-vie coming from the heart of the grande and petite champagne regions in Cognac. Expect notes of candied oranges and plums with a hint of hazelnut and cinnamon. The drink is best enjoyed neat, poured over ice or with artisanal food pairings such as aged parmesan cheese, chocolate truffles or bellota ham.
Maison SASSY cider
Established by Xavier d'Audiffret Pasquierand childhood friend Pierre-Emmanuel Racine-Jourdren at Xavier's family home Chateau de Sassy in Normandy, Maison Sassy is the new handmade cider with a contemporary approach to traditional Normandy ciders. Blending twenty different pear and apple varieties to make the ciders, this gives them an intricate flavour and aroma, similar to those of grapes. They can be enjoyed as an aperitif or paired with cheeses and deserts. For their holiday collection, Maison Sassy has teamed up with illustrator Quentin Monge to design the graphic-style cider bottles and gift box.
Recess x Opening Ceremony
Recess is a disruptor brand with their first-of-its kind CBD+ adaptogenic sparkling water drink. As part of Opening Ceremony's holiday installs, they have partnered with the fashion brand to design a limited-edition can. Refreshing in taste — a nice little breather from all the spirits, the pomegranate hibiscus flavoured drink will keep you cool, calm and collected. It's available to buy individually or as a pack of twelve.
Capucana
Capucana translates to 'the house of the sugarcane' in Brazilian Portuguese. A handmade cachaça drink made at the heart of Brazil, it's manufactured in one of the oldest distilleries; in the region of Piracicaba. Capucana incorporates nine varieties of sugarcane — four barrel-aged and five unaged, each individually crafted then blended together and aged for three years. This gives the drink a golden hue with a scent of orange fudge, leather and apricot. Its essence is one of honey blossom and vanilla, stewed fruit and a grassy character.
Attirecare Eco-Friendly Red Wine Stain Remover
Attirecare's new eco-friendly stain remover makes for a handy product to have in case of any mishaps during the festive season. Handmade and developed with biodegradable ingredients, it's designed to remove difficult stains on clothes and can also be used on your carpet and sofa. Attirecare aims to prolong the lifespan of 'our favourite garments and accessories.
Air Co. Vodka
Co-founders Greg Constantine and Dr. Stafford Sheehan have created the world's first-ever carbon negative spirit that is both eco-friendly and delicious in taste. Made from water, air and sunlight, Air Co. Vodka's unique approach to conventional vodka fermentation sets it apart from the rest. It's free from sugar, gluten and carbohydrates and developed from carbon dioxide that is clear of any impurities, resulting in the 'highest quality liquid on the market'. Winning numerous gold medals in major spirit competitions, Air Co. Vodka can also be found in Michelin restaurants such as the Eleven Madison Park and Gramercy Tavern.
INFORMATION