CBD is hitting new highs in the wellness world
Myth or magic, cannabidoil's budding industry is certainly having a moment. Read our picks from the increasingly design-led CBD community, and get our take on this potentially powerful wellness multi-tasker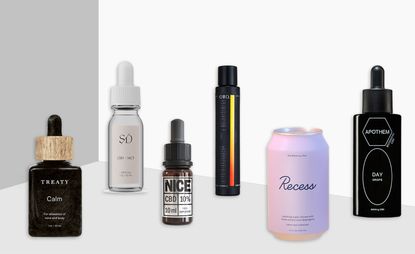 (Image credit: press)
Cannabidoil, otherwise known as CBD, is one of more than 100 chemical compounds known as cannabinoids extracted from the marijuana flower and buds of Cannabis Sativa.

Unlike its unlawful partner Tetrahydrocannabinol (THC), CBD lacks the psychoactive ingredient found in cannabis, which causes the 'high' sensation. Instead, it claims to have an impressive plethora of health benefits — the cannabinoid goes hand-in-hand with the wellness industry's top buzzwords — apparently reducing anxiety, depression, pain and even cancer-related symptoms.
The international rescue remedy
It's been big news (and big business) in California since early 2018, but in Europe, cannabidoil has become this year's wellbeing panacea. Now, both sides of the pond, high-end CBD-infused products range from cannabidoil tinctures for anxiety-ridden felines, hemp-infused sourdough to cocktail bitters, face creams and even energy drinks for those who are in need of both vitality and calming down.
In latter months, our inboxes and pigeon holes have been filled with more high-end CBD offerings, with considered branding and increasingly inventive packaging design. Take The Drug Store, for instance, which has just opened its second bricks-and-mortar boutique in London. But do the benefits really add up, or is CBD the health industry's pot peeve?
A real multi-tasker
Currently, the sales of CBD-infused products are thought to be close to €1bn a year in Europe, which might be the reason why you see the acronym popping up everywhere from your breakfast cereal to your Instagram feed. Yet, the influx in the availability of these products also comes with the huge scope of counterfeit products and poorly-labelled ingredients.

In the UK and US, the CBD trade has very little verification; products must list ingredients, display no medical claims and of course, contain no more than 0.01 per-cent of THC. (Although one of the brands we tested contained over 0.03 per-cent THC, which we had to 'smuggle' into Wallpaper* HQ...). But with such loose regulations, it's no wonder that CBD and its effects have been coined as the real beauty 'multi-tasker'. Without stating the obvious, it's important to keep in mind products added ingredients. Which poses the question, is it actually the CBD or the concoction of botanicals and aromatics causing this cosmetic moment?
At Wallpaper* HQ, we've weeded out the best of the bud...
Treaty
New York-based brand Treaty takes us back to our roots, the family of four hemp tinctures follows a 'seed to bottle' ethos. Using locally sourced botanicals and Hudson Hemp extracts, ingredients are sourced locally to ensure Treaty's holistic approach to plant-based homeopathy. Each tincture takes one calendar month to produce, as the gentle ethanol extraction method ensures the Hemp's full-plant potential, ultimately preserving Treaty's integrity and potency. We recommend the sweet citrus scented 'Calm', which helps ease feelings of anxiety while added limonene and myrcene help enhance your mood. Ideal for daily use, to ward off those pesky day-to-day stressors.
Standard Dose
Probably the daintiest looking tincture of them all, Standard Dose's formula is blended for efficacy and daily use. Aptly named, one full 33mg dropper is the measured dose, containing 1000mg of CBD sourced from New York State. The formula itself adapts to your unique body chemistry, as different cannabinoids affects each of us differently. The Standard Dose formula works to relieve stress, reduce inflammation and elevate your daily routine. Unlike others of its kind, the formula is transparent and scentless, making it a seamless addition to beverages or for a more discreet CBD drop.
Apothem
Just launched exclusively in London's Harvey Nichols, Apothem is one of the most highly concentrated CBD formulas on the market, reaching an enormous 8000mg dosage. With oil tinctures available for day and night, other offerings include a balm and a body oil. The Day formulation is Apothem's simplest product, containing a mix of only MCT, coconut oil and organic CBD to level out the everyday.
Mr Nice
Based on Britain's best-known drug smuggler, this London-based brand borrows Howard Marks most famous pseudonym, Mr NICE. Operating as the UK's first cannabis concept store, Mr NICE has a 'full spectrum' offering, referring to the wide variety of beneficial compounds derived from the hemp plant, such as oils, gel capsules, hemp tea and even a clothing collection. The Mr NICE Oil 10%, is a standout favourite on the Wallpaper* digital desk, which we discovered was the perfect pairing with a peppermint tea.
OTO
Made using their eponymous curation process 'Otosynthesis', OTO's range of skincare and shots combine high quality botanicals with organically grown, pure CBD. Focusing around three particular issues — focus, balance and amplify — the concentration is a high 20 per cent CBD, compared to other rival roll-ons. The 'Focus' edition combines complementary aromatics such as rosemary, Ylang Ylang and peppermint, a careful creation thought to induce a sense of homeostasis within the body. This in turn aids sleep and helps to adverse symptoms such as muscular pain, stress and anxiety.
Recess
Having managed to can the feeling of calm, Recess' hemp-infused sparkling water certainly looks the part. Added adaptogens, such as Ginseng and L-theanine are blended with 10 milligrams of full-spectrum hemp extract, which contains far more cannabis plant extracts than just CBD alone. Available in a range of three flavours; Blackberry Chai, Peach Ginger and Pomegranate Hibiscus, Recess can be enjoyed at any time of day, whether that be as part of a morning routine or as an after dinner indulgence (perhaps with something a little harder, too?)
Though concrete evidence behind CBD is still in its experimental phase, there are editors, influencers, anecdotes, and even our own digital desk all hint at a product that may just be a pivotal movement in beauty history. But for now, CBD remains the Wild West of the wellness scene.
INFORMATION
ourtreaty.com (opens in new tab)
otocbd.com (opens in new tab)
mrnicelondon.com (opens in new tab)
standarddose.com (opens in new tab)
takearecess.com (opens in new tab)
apothemlabs.com (opens in new tab)
thedrug.store (opens in new tab)