Yolk hero: omelettes get an upgrade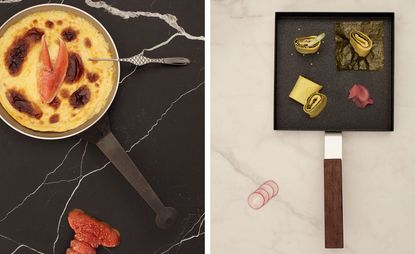 (Image credit: Geray Mena)
Omelettes are supposed to be humble fare, right? It's the meal your pan makes for you in the time it takes to lay the table.

But a few years ago, Norma's restaurant at the Parker New York hotel turned it into the breakfast of bacchanalian bankers when it launched its 'Zillion Dollar' version with lobster and caviar (actually costing $1,000 until a change in caviar pricing doubled it to $2,000).

More accessible at £29.50, and gaining more traction, is the lobster thermidor that British chef Tom Kerridge put on the menu of his eponymous bar and grill, which opened at the Corinthia Hotel in London last autumn.
It's putting regional omelette-based dishes under the spotlight as chefs seek to make eggs go the extra mile in appeasing hungry palates. Anyone for omelette Arnold Bennett, the Savoy's staple dish? Tuscan peasant-fare frittata trippata? Savoury or sweet tamagoyaki from Japan? Or perhaps rolled and stuffed gyeran mari from Korea?

And to further raise the profile of omelettes on our tables, we've scrutinised the stock of our favourite kitchen brands to whip up all the tools we need for our eggy adventures. §
As originally featured in the April 2019 issue of Wallpaper* (W*241)