Design
Destined for big things, look out for these future design stars and their production-ready pieces at a furniture showroom near you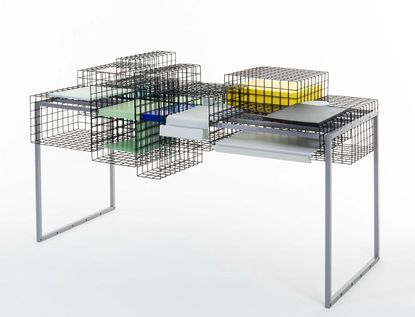 (Image credit: Ian Bartlett)
Whether in the office or home, the 'Grid System' by Ying Chang (opens in new tab) aims at redefining everyday objects through a playful composition. Mesh elements and colourful accessories are installed on a simple metal base and can be arranged in a variety of ways.
Design doyens take note, this year's graduate shows serve up a plethora of sophisticated, production-ready pieces that are no doubt destined for the future collections of industry heavyweights.
Writers: Rosa Bertoli and Ali Morris
The 'Circus' note sticker by Bjørn van den Berg (opens in new tab) features a coloured lid that rotates aside to reveal contrastingly hued stationery inside – a sticky note wheel of fortune.
A luxurious take on the humble ping-pong racket by ECAL graduate Luc Beaussart (opens in new tab), 'Le Beau Jeu' combines elegant design with a careful construction of aluminium covered in leather and suede using shoe-making techniques.
Rebekka Joachimsen Røed's 'Braathen' sofa is an exploration of sustainable manufacturing methods, is nostalgic in its colour composition. Its elements switch around for different aesthetic results.
Combining an environmental concern with design, Wael Seaiby (opens in new tab) used recycled plastic bags to create the 'Plag' series of vessels. While they are shaped to resemble ceramics and glassworks, their colours hint at their provenance.
The focus of Pieteke Korte (opens in new tab)'s whimsical side table, titled 'Stone & Foam' (left), is the red air cushion, sandwiched between a foam cube and a fat marble top in an intriguing play of contradictions and contrasts. The piece is part of a wider research into soft and hard materials and how they can interact.
'Geometrically simple but materially complex', Oliver Staiano (opens in new tab)'s 'Project Play' lamps comprise a magnetic rubber base on which the magnetic lamp head can be set, and endlessly reset, in any position.
Tove Greitz (opens in new tab)'s clean design of the 'Expectations' mirror is interrupted by a foggy vertical line creating a distorted refection. The project is the result of Greitz's study of expectations and their impact on behaviour and self-perception.
The 'Ninety Fourteen' collection of rugs by Daniil Tanygin (opens in new tab) is based on geometric patterns whose lines always follow either a 90- or a 14-degree angle, creating an optical illusion that the designer calls 'pseudo three-dimensionality'.
Mixed media textiles graduate Gemma Kay Waggett (opens in new tab) has a penchant for colour, shape and embroidery. Her 'Beyond Woven' stool (above left) is part of a collection of furnishings that combines abstract geometric patterns in eclectic compositions.
Exploring ways of integrating wellbeing into the workspace, Mathilde Vello (opens in new tab) created this ambient lamp. A rotating disk controls the intensity of the light, projecting poetic colours onto its surroundings.
Working with Latvian craftsmen, this duo - comprising Jasmina Grase and Nils Chudy (opens in new tab) - aimed to give a traditional material, wicker, a contemporary form, combining it with an industrial metal frame. Their 'Cabinet' is part of a three-piece collection.
Raúl López de la Cerda's 'Dividings, Privacy Exposed' is a shelf unit and divider in contrasting colours and materials, inspired by the 'ghost building' on Wabash Avenue, Chicago, where the rooms and décor were exposed after the demolition of neighbouring structures.
From a designer interested in packaging and graphics, each box in this series by Tove Jeppsson Bohlin (opens in new tab) of desk accessories features a translucent white plastic shell, and is identified by a colourful geometric shape visible within.
Prized for its durability and beauty, demand for rosewood furniture in Southeast Asia has outstripped supply in recent years leaving skilled craftsmen out of work. Determined to come up with a solution, Hongchao Wang - along with Peng You of Benwu Studio (opens in new tab) - worked with cheaper alternative hardwoods and researched hundreds of mortise and tenon joints to find the three strongest and most versatile. The result is the affordable and sustainable low back 'Sumo' armchair that is just as durable as its traditional rosewood counterparts.
Celebrating materials that are commonly perceived as cheap or fake, Fran Buss (opens in new tab)' graduate collection of screen printed fabrics feature speckled formica and chipboard surface patterns. Realised in a 1980s-inspired palette of bright pastel tones, the collection, according to Buss, was designed with a post-modern approach, where surface decoration is valued above all else.
Miyuki Fushitani has created a security-conscious, ash-wood chair with a back that doubles as a storage space for your valuables. The space can only be accessed from the front, making it extra secure when you happen to be sitting on it.
Combining simplicity with humour, Roee Magdassi (opens in new tab)'s 'Tre' standing lamp, crafted to form an abstracted bird shape, features an adjustable wooden base to change the light's direction.
Giving appealing new shapes to blown glass, and produced in a variety of hues, Dora Schroeder's covetable 'Ladrillos' (Spanish for bricks) blur the boundaries between art and craft.
Maud van Deursen (opens in new tab)'s 'Chateau d'eau' carafes set out to transform the way we think about tap water. Pointing out that bottled water is a thousand times more expensive, damaging to the environment and of a much poorer quality than tap water, the designer's Dutch water tower-inspired carafes enhance the experience of pouring the water, elevating it from boring beverage to precious resource.
Gina Heltorp Andersen (opens in new tab)'s wall-mounted shelf supports an array of green-rimmed mirrors that can be arranged into different graphic compositions of overlapping geometric shapes. Called 'Pablo', the piece is named after Picasso, whose distorted paintings inspired the concept.
The shapes of Hannah Quinn (opens in new tab)'s 'Type A' stools are inspired by the furniture designs of Charlotte Perriand and Alvar Aalto. In a graphic arrangement of walnut and steel, the design reflects her attention to colour, material and clean lines.
Diána Farkas' 'Cube' series of miniature glass landscapes merges organic forms with contemporary geometry. The artist and designer's experimental pieces display great technique and chromatic sensibility.
Rosa Bertoli was born in Udine, Italy, and now lives in London. Since 2014, she has been the Design Editor of Wallpaper*, where she oversees design content for the print and online editions, as well as special editorial projects. Through her role at Wallpaper*, she has written extensively about all areas of design. Rosa has been speaker and moderator for various design talks and conferences including London Craft Week, Maison & Objet, The Italian Cultural Institute (London), Clippings, Zaha Hadid Design, Kartell and Frieze Art Fair. Rosa has been on judging panels for the Chart Architecture Award, the Dutch Design Awards and the DesignGuild Marks. She has written for numerous English and Italian language publications, and worked as a content and communication consultant for fashion and design brands.