Fan mail: S/S 2020 womenswear's outstanding fashion week invitations
We round up the most eye-catching fashion week invitations from the S/S 2020 womenswear shows, including Versace's tropical print flip book, Loewe's Steven Meisel-shot poster and Yohji Yamamoto's monochromatic fridge magnets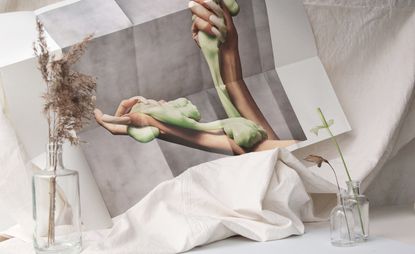 (Image credit: Aylin Bayhan)
Slime time

Loewe creative director JW Anderson often includes a poster in his invitations for the Madrid-based house, allowing guests to pin a little something of his vision on their wall at home. For S/S 2020 things got gunky, as the designer included a poster of the brand's spring campaign shot be regular collaborator Steven Meisel and creatively masterminded by agency M/M (Paris), of two hands with long manicured talons, grabbing oozing globules of flourescent green grunge. Props: Marianne Kakko
Cloud fine

It was blue-sky thinking for a number of brands, who took inspiration from cloud-populating sunny skies for their S/S 2020 show invitations. Emporio Armani's show was inspired by the sky above, and its invite featured a blue sky with a subtly metallic sheen. In Paris, Y/Project and Lemaire featured photographic shots of the venues of their shows, the Pont Alexandre III Bridge and the École Duperré, shot against a picture-perfect sky.
Hopeless romantic

There was rumbling of modern romance for S/S 2020 as brands offered up objects with a sensual, boudoir appeal. Take N°21's show invitation – a pair of pale pink pants which nodded to its lingerie-flashing sensibility, Nanushka's elegant fan with a tantalising tassel, or Burberry's delicate offering, imagined as a gauzy lace doily, which referenced the show's Victorian inspiration.
Book smart

Since his appointment at Celine, Hedi Slimane has celebrated the power of print with an invitation presented as a hotly-coveted hardback book. For the brand's S/S 2020 men's offering, a chalk grey canvas-covered volume concealed a series of colourful tear out posters, featuring artwork by David Kramer. For women's, it featured enthralling images of sculptures by artist Hu Xiaoyuan.
Bright side

There was a punch of primary colour as brand's indulged in a vibrant paint box of greens and reds. Issey Miyake, Roksanda and Dilara Findikoglu favoured cardinal red, while ever sustainably-minded Stella McCartney, opted for fresh forest green.
Tropical touch

Two decades ago Jennifer Lopez wore a plunging tropical print Versace gown to the Grammy Awards, and her look was so searched for online it prompted then-burgeoning company Google to design its now ubiquitous Image Search. Lopez broke the internet once more when she walked in the label's S/S 2020 show in a similar version of this iconic style. Versace's show invitation – a tropical frond emblazoned flip book – alluded to the popular revival of Lopez's famed dress, with its pages preempetivley flicked to reveal the words 'Versace womenswear SS2020' inside a Google Image search bar.
High alert

Primary tones aside, labels also opted for details in high-alert neon hues. MSGM opted for highlighter hued yellow offering, while Junya Watanabe and Kwaidan Editions favoured rectangular invitations in organic hues, emblazoned with shocking pink and zesty green typography. The elastic band of Paco Rabanne's signature invitation was imagined for spring in bold Klein blue.
Golden age

Metallics hit the mark for S/S 2020 with a number of labels taking a Midas Touch-approach to invitation design. Prada's square invite resembled a duck egg blue and gold leaf tile, a nod to the colourful mosaic of tiles and gold columns which populated its AMO-designed show set. Elsewhere, Saint Laurent's signature leather envelope had a golden 'Saint Laurent' logo tag, while Bottega Veneta's version featured wonderfully tactile golden fabric, with its luxurious folds suspended inside a hunk of clear plastic.
Edible elegance

Peckish guests got a treat for S/S 2020, as Salvatore Ferragamo's spring invitation was sent as a chic cardboard basket holding a host of Italian Cantucci biscuits. Front rowers contested the various flavours offered inside (we favoured the chocolate style) and were kept satiated as they shuttled from show to show.
Material world

A host of fine fabrics were used to festoon show invitations. Givenchy nodded to the denim-focused 90s silhouettes in its S/S 2020 collection with an invitation swathed in stonewashed, fringed denim, while Jil Sander served up an elegant invite with abstract figurative prints. At Missoni, the brand alluded to its signature chevron strip knitwear, with a pouch formed from colourful zig zag fabric.
Literary leaning

As the world becomes more digitised, label's alluded to the power of print. There was an epistolary élan behind Gucci's show invitation (a much pared down take than in recent season's of classical masks and tin boxes), which was imagined as a small letter with a stamped wax seal. Elsewhere, Rejina Pyo nodded to the library location of her S/S 2020 show with an invitation imagined in yellow lined cardboard, resembling a library book record.
Monochrome magic

There was a pared-back pizzazz behind a host of invitations, imagined in elegant black and white. Off-White's regular acetate covered invite featured the far off image of a meteorite and accompanying 'Meteor Shower' text. We also felt a real pull towards Yohji Yamamoto's spring invite, which included a collection of circular fridge magnets.