Tune in Tokyo: Diesel celebrates 30 years in Japan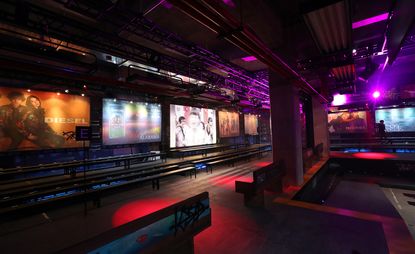 (Image credit: TBC)
It's a little past nine in the evening of a hot and humid Tokyo summer day and Diesel has invited the city's hip and happening to take part in the brand's 30 years in Japan anniversary celebrations.

While the brand does not disclose exact turnover figures, global head of press Alban Adam stresses that 'Japan is a very important market for Diesel' and the turnout at the event seems to support this. The main event takes place in a packed Blade Runner-esque train station – Neo Tokyo – constructed on the fourth floor of a large riverside warehouse on the small Tennozu Isle. The set came complete with kitsch Japanese neon signs, graffiti and large LED displays showing trademark Diesel commercials.

A HAL 9000 computer generated voice bids the audience welcome and the loud house music kicks in as the first model strides down the runway. Welcome to Diesel's A/W 2016 'see now, buy now' Tokyo spectacular – where everything shown on the catwalk is available online immediately.

A number of design collaborations only available in Japan were also launched as part of the anniversary including design partnerships with N. Hoolywood and Yuko Koike. Two capsule denim collections (one of bias-cut denim and the other 'Jogg' jeans wear) are also launched on the night.

The evening similarly gave visitors a look back at the brand's history through a small exhibition of vintage 'Diesels' staged at the entrance to the show, as well as a sneak preview of a collaboration campaign with Terry Richardson called #forsuccessfullliving (opens in new tab). Fifty key phrases (including #5 love openly, #7 be more green, #40 have fun) summed up Diesel's philosophy of life and were visualised in bold and edgy posters by the fashion photographer.

After the final run of the 40 or so models, artistic director, Nicola Formichetti, popped out onto the platform and shyly jogged a lap, while waiving to his many Japanese fans. He then stopped in front of founder Renzo Rosso who got a big hug before the post show celebrations began in earnest.
INFORMATION
For more information visit Diesel's website (opens in new tab)