Tomas Maier's search for eyewear perfection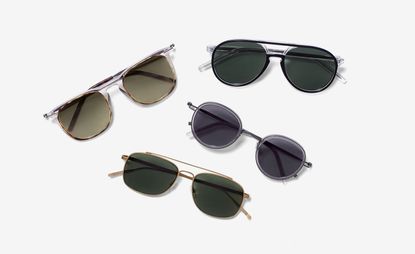 (Image credit: TBC)
'Your glasses say a lot about you,' explains Tomas Maier, the veteran fashion designer with the vision of an artist and the hawk eye of an architect, 'and in general I think people want quality glasses that are not overdesigned.' True to form, his partnership with Kering Eyewear for his debut S/S 2016 collection remains strictly tied to this vision. Design, but not too much. Flair, but just the right amount. Casual style, but delivered with razor-sharp execution.

The move into eyewear represents continuity more than change for Maier: 'I have always worn glasses myself and we have sold them in our stores successfully for years,' he continues. 'When the opportunity presented itself it seemed a very natural evolution.' His choice of Kering as a partner was no less natural for a man in search of perfection, a choice solidified by 'their innovation, design and manufacturing capabilities, which are the best'.

The range is composed of ten unisex styles whose effortless aesthetic conceals a wealth of design expertise, whether in the engraved ridge detail of the temple tip to prevent slipping, or the anti-reflective coating on the underside of the flat lens models.

'Novelty should not outweigh functionality,' Maier adds, in characteristically minimalist terms. This same mantra has been applied throughout his illustrious career, spanning positions at Sonia Rykiel, Revillon and Hermès, and continuing in his role as creative director for Bottega Veneta.

Maier is quietly confident about this latest venture; most specifically the uncompromising quality of the range: 'The aviators are extremely light, flat lensed and ultra-minimal. Upon examination, you get it – the effort that went into them to make them different.' Indeed they rely on the power of hand craft, a rigorous design process and superlative materials. But then, with Tomas Maier, one expects nothing less.
INFORMATION
For more information, visit Tomas Maier's website (opens in new tab)