Connolly looks to British Surrealist style for its 1940s-inspired knitwear
The British label's chunky sihouettes evoke the post-war wardrobes of Lee Miller and Roland Penrose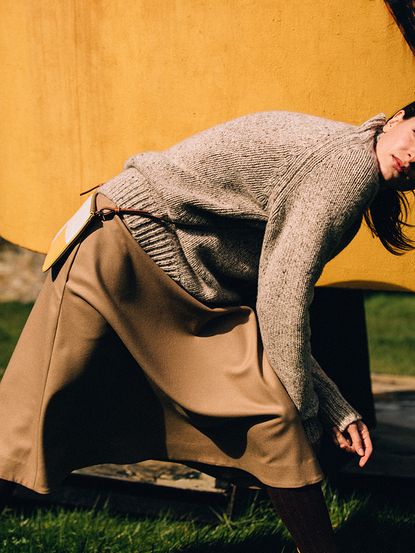 (Image credit: connollyengland.com)
In 2019, luxury British label Connolly based its Circuit Sweater design – a chunky cashmere and merino style with a cropped silhouette – on a 1940s silhouette. 'We felt we were already heading into an austere world,' says the brand's owner Isabel Ettedgui. 'Pieces felt a little post war Britain, not necessarily vintage but styles that would last and weren't "fashionable" per se.'

Ettedgui and the label's knitwear designer Lorraine Acornley looked to a range of artists from this period, including photographer and muse Lee Miller and her husband, painter and writer Roland Penrose and their British Surrealist community. In 1949, Miller and Penrose moved with their young son to Farley Farm in West Sussex, a homestay visited by Pablo Picasso, Max Ernst and Joan Miró. There, as a result of the war, Miller also suffered and was rehabilitated from post-trauamtic stress disorder. 'In retrospect, it feels appropriate that her post-war farm life, and how she coped with the earlier traumatic events, became our inspiration in a year like this,' Ettedgui adds.
Expertly woven, timeless, and with enduring design details, Connolly's knitwear taps into what we're choosing to wear in today's changed world. 'We loved the everyday beauty in Miller and Penrose's clothes,' Acornley says. 'The playful way they accessorised their outfits...a little tie here, a hat or a corduroy cardigan. Our knitwear begins with a garment, or an old photograph or a mood in time..or something that we both feel passionately about.'

For winter, we recommend snuggling up in Connolly's Big Skirt, formed from painterly mélange cashmere yarns, or its Aran Sweater, which is inspired by the twisting ropes and rigging of a boat, and is hand knitted in a rare breed wool called 'Blue Faced Leicester' – chosen for its curly fibres. Additionally, the brand's Robe De Chambre has been updated with striped accents of colour, and taps into our penchant for an ease-fuelled top layer. 'We like to play with finishing details and yarn combinations... our design decisions are subtle but playful. A Connolly knitwear piece has its own kind of handwriting,' Acornley adds. Now you can make it part of yours.
INFORMATION