Style and sustainability: spotlight on Copenhagen Fashion Week A/W 2019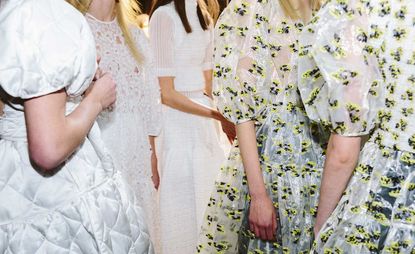 (Image credit: Sara Abraham )
The week-long recess which the fashion pack used to get in late January, between the menswear month, Paris Haute Couture shows and the beginning of New York womenswear is no more. Slowly but surely, Copenhagen Fashion Week is becoming a fixture in the international agenda, and the kind of off-circuit fashion event industry insiders keep their eye on season after season. Danes, however, like doing things in their own way, which means that rather than yet another intensive schedule jam-packed with shows and presentations, they choose to cherry-pick and showcase the best their fashion has to offer.

So far, the strategy works: a wide range of international press, buyers from Net-a-Porter to Le Bon Marché, and a gamut of influencers and the corresponding street style photographers took over the streets of Copenhagen late last week. Far from surprising, given the amount of globally coveted brands established in the Danish capital.
Stine Goya A/W 2019.
The fact that most of them rank high on the eco-friendly scale doesn't hurt, either. Denmark, like all Scandinavian countries, is particularly concerned about the environment, not least when it comes to fashion. 'There is so much greenwashing and empty talk around environmentally-friendly fashion… It's still impossible to be 100 percent sustainable, true, but it's important to have a genuine engagement that goes beyond pure marketing, even if it's just a small action. It's all about asking ourselves what we, on our scale, can do', says Kristian Andersen, creative director at Copenhagen International Fashion Fair, which holds a trade show and many of the scheduled shows.

This is a mantra that Stine Goya also believes in. The designer presented her latest collection at the Royal Danish Library, where a group of dancers under the direction of Puerto Rican choreographer Kiani Del Valle wore an ensemble of colourful sequined evening dresses, made from digitally-printed hemp (with a process that needs no water), organic silk, natural dyes and recycled sequins. 'Initially it was a difficult process', the designer said backstage. 'You would imagine that, with sustainability being such an important topic globally, these materials would be widely available. But the sourcing is still a challenge.'
Ganni A/W 2019
So is ethical manufacturing. Which is why Veronica D'Souza, founder of Carcel, builds her brand's production sites inside of women's prisons in order to help them break with poverty. This season, Carcel presented 'Silk', a new 100 per cent silk line made inside the women's prison in Chiang Mai, Thailand. 'Our take is that eliminating waste all throughout the chain is not only planet friendly, but its also smart business as you don't have deadstock and your products don't lose value', she says.

At Ganni, though, the focus was larger. Arguably the best-known contemporary brand in the Danish landscape, and a magnet for cool girls all over the planet, Ganni's show was titled 'Life on Earth', and featured a collection filled with chunky knitwear, wide-legged trousers, florals and camouflage patterns. In the past, founder Ditte Reffstrup partnered with American photogprapher Ana Kraš, to capture images of the brand's home city. For A/W 2019 visual collaboration had a wider focus. The collection was shown against a backdrop of pictures taken by National Geographic photojournalist Ami Vitale.
Cecilie Bahsen A/W 2019.
Cecilie Bahnsen, like jewellery designer Sophie Bille Brahe or Saks Potts (the outerwear brand known for its colourful fur-trimmed coats, also a Copenhagen fixture but which shows only in the Summer season) is one of those red-hot brands currently having a moment, and for good reason: in a show, as eerie as a David Lynch movie, a mostly black-and-white collection featuring delicate bead-embroidered, tulle and scalloped patchwork dresses in voluptuous volumes, was an ode to both innocence and perversity. As the designer put it, 'the look this season is less clean and controlled than I've done before. It's the feeling of unravelling or coming unstitched.'

'Our girls are a little moodier and darker,' Bahnsen added backstage. 'They're like a group of runaways'. This unbridled escapism was echoed in sporty details within the collection, like technical knitted jumpers worn beneath diaphonous dresses and smocks sported with girlish ankle socks and trainers.
Holzweiler A/W 2019
Other highlights this week included Holzweiler, the Norwegian-born scarf brand which has evolved towards a head-to-toe streetwear-influenced look, and Baum und Pferdgarten, one of Copenhagen's fixtures, which this season celebrated its 20th anniversary with a collection inspired by the idea of a family-shared wardrobe. Wearability is at the very of Copenhagen Fashion Week's core, which explains its growing success. The Danish fashion scene is definitely here to stay.
INFORMATION
Copenhagen Fashion Week was on view from 29-31 January 2019. For more information visit the Copenhagen Fashion Week website (opens in new tab)