Prada 24 Hours Museum, Paris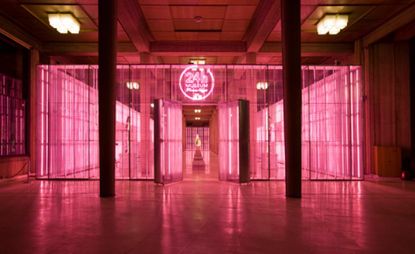 (Image credit: press)
A little Dan Flavin, a little Studio 54, a little sculptural assemblage and lots of pink neon. That's more or less the flavour of the 24h Museum (opens in new tab), an ephemeral,culturally kooky conceit that will already be halfway over by the time you read this.
It's the type of idea that could only be born from a dream team of artist Francesco Vezzoli, Prada (opens in new tab) and AMO, Rem Koolhaas' (opens in new tab) think-tank.
And to be sure, 24h Museum adheres less to the traditional definition of a museum than a pulsing remix of art for art's sake (contingent on what you consider art).
Since 8.30 last night, the Palais d'Iéna in Paris has been playing the role of Cinderella, transformed from the headquarters of the Conseil Économique, Social et Environnemental for a full day into three sections representing Vezzoli's vision of 'historic, contemporary and forgotten'.
Built by Auguste Perret (opens in new tab) between 1936 and 1946, the Palais d'Iéna was originally intended as a public works museum - part of the venue's allure for Vezzoli. AMO had plenty to work with: a staircase of theatrical scale and a wide-open space of concrete columns. This is where Koolhaas' team erected a steel cage backlit by vertical rows of pink neon tubes.
Inside this neon nave are 13 figures. They've got the bodies of classical Greek Aphrodites and Venuses with the familiar faces of Elizabeth Taylor and Grace Kelly - and their eyes have been replaced with Vezzoli's mother's (fixed in coquettish bedroom glances) like a trippy, life-sized magazine collage. The figure holding court at the far end of the space is also a representation of the artist's mother, her head encircled with a halo of the museum's diner-style logo. The male counterparts, meanwhile, have been relegated to the Salon des Refusés, a curtained room that doubled as last night's dance floor.
Prada's presence is invisible in terms of branding. The company is essentially acting as patron, supporting Vezzoli's vision just as it has done with other one-off artistic endeavours in the past.
Known for enlisting stars (Lady Gaga, Helen Mirren, Natalie Portman) in grand performance gestures both live and filmed, Vezzoli has referred to this exercise as both 'a sort of ironic retrospective of my work as an artist' and 'a conceptualisation of a baroque feast'.
Indeed, the 24h Museum's first 150 minutes unfolded as a private dinner for a cross-section of fashion, art and Hollywood bon vivants, many already in Paris for the haute couture collections. By the three-hour mark, the evening shifted into nightclub mode with Kate Moss doing a stint as DJ. Male partygoers could be seen climbing the pedestals to pose for pictures with the statuettes. Meanwhile, the tapestry-filled assembly room had been turned into a cinema.
With the exception of a midday press walkthrough from 12-2, the museum is open to the public (highlights are also being live-streamed at www.24hoursmuseum.com (opens in new tab)). A closing cocktail party this evening will toast the project once again until 8.30. And then it's game over.
Vezzoli initially stated his ambitious - though not impossible - goal to stay awake the full cycle. Fifteen hours into the 24h Museum, he spared some time to talk to Wallpaper*
Did you get any sleep?
Just a little. When they started playing around with the sculptures, I knew it was time to leave. People took the sculptures and made them dance. It was like a Roman ritual.
Did the installation's here-today-gone-tomorrow conceit shape the way you
thought about it?
Not really. I approached it like I approach my videos. The key word in
my work could be mimesis - an imitation of life, mirroring. This installation could stay up for years.
So why only 24 hours?
Why only make the trailer of a movie that doesn't exist or an advertisement of a perfume that doesn't exist? I'm trying to mirror the unfulfilled promises of the society of spectacle.
What makes Prada such a good patron?
I have so much respect for what [Miuccia Prada] does and how she does it that I want to give the best. She's like Nicolas Ghesquière and Bernard Arnault in one person as far as being the most creative and most financially powerful. I enormously respect Bernard Arnault but he can't design a dress. Or not one that I would wear.
There were school kids here earlier. What do you want them to leave with?
I'm not playing fake modesty but I would assume they came for the Rem Koolhaas intervention. It's important to explain that we are occupying territory that is serious and politically charged. That doesn't make my project political. It's the place I'm occupying that makes it political. I'm making a gesture; I'm putting emotions where usually politics are.
But so few people will get to experience it.
For the YouTube generation, since everything is available online, I think it is important to create exhibitions that only make a difference if you go and see them. If people want the feeling of seeing this moment, they have to bloody come.
Isn't art created to last, though?
But we are discussing ephemerality. I don't care about it lasting. What's going to happen after, I couldn't care less.
So what does happen after - at least in the short-term?
The statues will go into storage and I don't think they should be exhibited ever again because the installation was conceived as a reaction to the building. We are in the week of haute couture and this is haute couture. We designed an entire experience according to the place we were given.
ADDRESS
Palais d'Iéna: 9
Place d'Iéna
75016 Paris