OMA's furniture for Knoll is previewed at Prada's A/W 2013 menswear show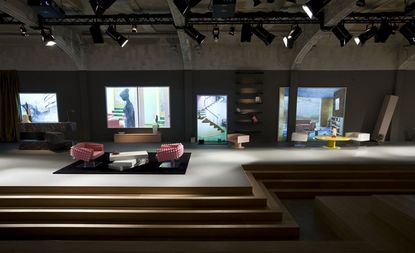 (Image credit: TBC)
It was only a matter of time before the forward-thinking furniture manufacturer Knoll (opens in new tab) joined forces with OMA (opens in new tab), one of Europe's most forward-thinking architecture practices. Last night the two design stalwarts sneak-previewed the fruits of their first collaboration - a 12-piece furniture collection to be launched at the Salone del Mobile - as a backdrop to the Prada (opens in new tab) A/W menswear fashion show.
The bubblegum-pink textural swivel armchairs, stacked-wood coffee tables and long, lean sideboards provided just the right setting for Prada's pops of colour and butter-soft leather. The pieces, which will debut at the Salone as part of Knoll's 75th anniversary celebrations, 'extend the Knoll tradition of exploring dynamic space-planning ideas based on datums for the contemporary work,' said the brand.

OMA's relationship with Knoll may be new, but its links with Prada were forged many years back: the architecture practice has designed the fashion brand's retail spaces over the past decade, and OMA's think-tank AMO has magicked fearless sets for Prada's catwalk shows since 2004. For last night's presentation, AMO modelled a radical vision of the 'ideal house' at Prada's vast Fogazzaro show space, incorporating items from the new OMA-Knoll collaboration - the first time the team has showcased furniture design alongside its fashion collections.

Wallpaper* has covered these remarkable collaborations before; last year AMO sat viewers on a 'field' of 600 cornflower-blue foam blocks on a bright green artificial-grass ground. But this season the architects reversed out the traditional catwalk configuration entirely, seating guests on a pyramidal island at the centre of the space while, around them, men walked among a perimeter lined with futuristic furnishings.
To bring home the domestic theme, the team projected images of 'ideal home' life on the walls, each scene picture-window size to make the audience feel like peeping Toms on a well-lit street. The 'woman of the house' popped up in silhouette in one window, but it was the models - in thick-soled, hard-wearing loafers and cropped trousers - who were the clear stars of the show. Someone should have pulled up a chair.