Beauty spot: MoMu charts Olivier Theyskens' greatest fashion hits in a new exhibition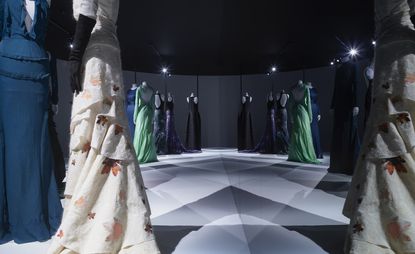 (Image credit: Jean-Pierre Gabriel)
With a compelling title 'She Walks in Beauty', the first retrospective of Belgian fashion designer Olivier Theyskens opened yesterday at MoMu, Antwerp, with the scenography designed by his close friend and fellow Belgian, the architect Glenn Sestig. 'The exhibition is the very personal journey of a young Belgian designer with an "old spirit" on the brink of two centuries. This unique perspective allows us to unravel the designer's artistic DNA on different stages. Theyskens' trajectory between five brands over a period of 20 years also reads as a visual imprint of the evolutions of the fashion industry in the 21st century,' says Karen Van Godtsenhoven, curator at the museum.

As soon as Theyskens received the invitation to stage a show, he called Sestig. His minimalist aesthetic and use of contrasting materials works beautifully with Theyskens' sense of drama. 'Because the clothes are so detailed, it's best to have the pieces in a clear environment so you can really look at the quality,' says Sestig, who orchestrated different environments to mark the passages of the designer's career to date.

The exhibition opens with a long hall showcasing Theyskens early work, including two dresses made for Madonna. 'The space is dark and black, but the silhouettes are illuminated which creates a dramatic vision. We found a new type of mannequin made in smooth matte material and shaped in very natural poses, as if the girls are lining up before they go on the catwalk. It's totally new on the market,' says Sestig.
The hall segues into a striking black and white space with half ovals that stages his work for Rochas, including a selection in a cage of ropes resembling a birdcage that became a symbol of the house. Sestig balances out the monochrome play with an all-white room for Nina Ricci that captures the brand's feminity. A small dizzying display of imagery marks the Theory years and the dynamism of New York, while Theyskens' own label that he re-launched three seasons ago, is given a luminous space, showing off the couture level detail and 'time travel' aesthetic. The fulcrum is a vast skirted white wedding dress positioned on a set of stairs. Throughout there are backstage photographs from collaborator, Ali Mahdavi, in addition to sketches and videos on small television screens.

'My woman has a little "goth and roll" spirit. I'm in love with women and in love with designing for them. It's my everyday life,' says Theyskens, who counts actors such as Felicity Jones, Diane Kruger, Greta Gerwig and Kirsten Dunst as fans. Sestig's scenography makes for a nuanced, thoughtful set for Theyskens' poetic body of work. 'The Theyskens girl walks in beauty, like the woman who inspired Romantic poet Lord Byron,' adds Van Godtsenhoven.
INFORMATION
'She Walks in Beauty' is on view until 3 March 2018. For more information, visit the MoMu website
ADDRESS
MoMu
Nationalestraat 28
2000 Antwerp
VIEW GOOGLE MAPS (opens in new tab)