Milan welcomes its inaugural fashion film festival aimed at established designers and emerging graduates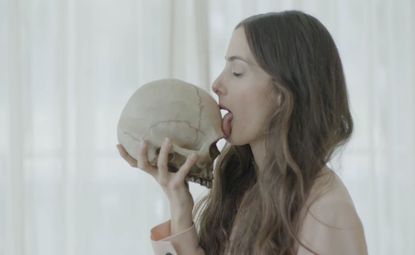 (Image credit: press)
On Sunday, Milan inaugurated its very first fashion film festival inside the 15th-century Piccolo Teatro Grassi, an esteemed theatre that has staged productions since 1947. Entitled Fashion Film Festival Milano, the two-day event was sponsored by the Camera Nazionale della Moda (opens in new tab) and featured public screenings of 70 films culled from behemoth brands as well as freshman efforts by emerging designers and recent fashion-school graduates.

'There are other fashion film festivals around the world, but none like this,' says festival founder and director Constanza Cavalli Etro, the Buenos Aires-born wife of fashion designer Kean Etro. 'No one else is targeting young designers.'

Etro, a former communications executive and co-founder of Mexico's fashion week, designed a programme that would attract work by top international fashion houses such as Louis Vuitton and Prada, and media outlets such as Dazed & Confused and Vogue Italia. But she put the spotlight and awards focus on young designers.

The 30 films in competition for the top nine awards - including best new director, best emerging brand, best styling and best art direction - are exclusively the work of emerging designers. Films submitted by established companies such as Giorgio Armani, Proenza Schouler, Ferragamo, Zegna, Opening Ceremony, Rodarte and Fendi, among others, were screened during the festival but remained off contest.

'A lot of these big brands have never participated in a film festival before, because the quality just wasn't there,' explains Etro. 'So it's a great sign that they've chosen to join us. We have a very high level of quality film.'

With free entry and registration, the festival received more than 300 video submissions. Italian journalist and gallerist Gloria Maria Cappelletti served as curator, combing down the selection to 70, including 20 big fashion brands, 20 media outlets and 30 in-contest young designers. The jury was composed of Italian Vogue's Franca Sozzani, Style.com's Tim Blanks, Nowness.com's Claudia Donaldson and film director Luca Guadagnino.

The films will continue to be screened during Milan Fashion Week at a special fashion hub (opens in new tab), designed and sponsored by Camera Nazionale della Moda Italianal, on Palazzo Giureconsulti.
The Milanese fashion scene celebrated the launch of a new Fashion Film Festival Milano over the weekend, which featured public screenings of 70 films culled from behemoth brands, such as L'Odysseé de Cartier by Bruno Aveillan (still pictured), as well as freshman efforts by emerging designers and recent fashion-school graduates
A still from Salvatore Ferragamo's White Shoe by Mauro Borelli. A lot of these big brands have never participated in a film festival before, because the quality just wasn't there,' explains festival founder and director Constanza Cavalli Etro. 'So it's a great sign that they've chosen to join us. We have a very high level of quality film'
A still from Eau de Rochas by Bruno Aveillan starring model Jessica Stam. Italian journalist and gallerist Gloria Maria Cappelletti served as curator, combing down the selection to 70, including 20 big fashion brands, 20 media outlets and 30 in-contest young designers
ADDRESS
Palazzo Giureconsulti (opens in new tab)
Piazza dei Mercanti, 2
20123 Milan
Italy
VIEW GOOGLE MAPS (opens in new tab)