Italy's love affair with the concept store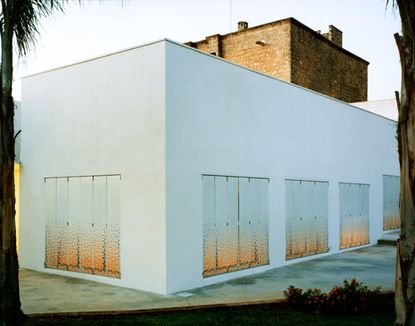 (Image credit: Domingo Milella)
Casa Puglia by architect Peter Pichler:
Shot at dawn, by Domingo Milella
Italy may have a long-standing reputation for mama/papa boutiques and hole-in-the-wall corner stores but in recent years Italian retail has been receiving a much-needed facelift. From the colossal 5,000 sq m White Gallery in Rome and Salerno's Idea Natura supermarket specialising in organic produce, sourced from independent local farmers, to Milan's Serendeepity store that offers goods across the retail spectrum, Italy's retail scene is developing a love affair with concept stores.
Trend report: Eco Hotels
Hotel Elda, Trentino

This Lake Garda hotel has been run by the same family since 1949, when Elda, the grandmother of current owner Andrea Pregl, decided to open her house to guests. Of course, a few things have changed since grandma Elda. In 2007, Pregl, a graduate of the Academy of Fine Arts in Bologna, invited his friend, the architect Lara Zoccatelli, to help rebuild the place in an eco-friendly fashion. He also commissioned interior designer Simona Rampoldi to create interiors that would be in harmony with the hotel's new architecture. The result is a design-savvy hotel that also boasts low energy consumption and two garden pools that collect rain water, which is then used for gardening, washing machines, and other hotel maintenance requirements. As of next year, Hotel Elda's electric power will be provided by photovoltaic panels and water heated by solar panels.
Via Tre Giugno 3, Lenzumo di Concei, www.hotelelda.com
Trend report: Eco Hotels
Lagació Mountain Residence, South Tyrol

Opened in December 2009 by Margareth and Pio Canins, the Lagació Mountain Residence is situated in the picturesque ski resort of Alta Badia in the Dolomites. The eco-friendly hotel and spa (certified by the CasaClima agency) was built using local wood and slate, while its low-energy consumption is achieved through thermal insulation, compact design and an intelligent programme which monitors the residence's standard energy requirements. The 24 one- and two-bedroom suites come with their own kitchen; guests can pre-order a shopping basket crammed with regional specialities and organic fruit and vegetables. Micurá de Rü 48, San Cassiano, Alta Badia, www.lagacio.com
Trend report: Eco Hotels
Bella Vista Hotel, South Tyrol

Work on the semi-subterranean Bella Vista Hotel began in 2009 and is expected to be completed by 2011. Designed by Milan-based architect Matteo Thun, the hotel is designed to blend into its environment: its 11 separate structures, constructed using natural materials found in the surrounding area, are literally built into the mountain slope beneath the steep Stelvio Pass. Bella Vista was conceived to live up to KlimaHotel's (the first international seal of certification for eco-friendly hotels) three tenets: ecology, economy and socio-cultural consideration, so that the visitor is guaranteed eco-transparency. www.matteothun.com
Trend report: Eco Hotels
Mod 05, Veneto

Located between Verona and Lake Garda, Mod 05 boasts a striking façade of large shutters made of phenolic panels cut and painted to look like oak and chestnut wood. Used to screen out the direct sun during the warm months, the shutters can also be left wide open to reveal the guestrooms' private balconies. Rooftop solar panels cover most of the building's heating, hot water and electricity requirements, including the hotel's light installations designed by Mario Nanni. Inside, the spacious public areas are furnished with pieces by Patricia Urquiola, Andrés Bluth and Lievore Altherr Molina, while the 36 rooms showcase colourful artworks by young contemporary artists.
Via Modigliani 5, Sandrà di Castelnuovo del Garda, www.modfive.it
Up-and-coming tourist hoods: Mazzorbo
In the shadow of its handsome bell tower, Gianluca Bisol has been busy bringing the island's abandoned historic vineyards back to life
Up-and-coming tourist hoods: Mazzorbo
A short boat ride from Venice lies the small and semi-deserted island of Mazzorbo
Up-and-coming tourist hoods:
Mazzorbo It took eight years to research and re-plant the old walled vineyard (Bisol opted for the ancient Venetian white grape variety called Dorona)
Up-and-coming tourist hoods: Mazzorbo
The main villa now houses six hotel rooms furnished with iconic Italian furniture and lighting by the likes of Fontana Arte and Driade and offering views over the vineyard and the famous Venetian lagoon.
Up-and-coming tourist hoods: Mazzorbo
Central to the project is the Ristorante Venissa where chef Paola Budel, who trained under the famed Gualtiero Marchesi and Michel Roux, serves up fine food using produce from the estate or the nearby islands such as Sant'Erasmo and Lio Piccolo.
Up-and-coming tourist hoods: Asti
Here, a charming local architect couple have carefully restored a mid-14th century tower and turned it into a one-suite hotel, named Rotarius
Up-and-coming tourist hoods: Asti
Rotarius offers impossibly high ceilings, original ornate arched windows, an eclectic mix of antique furnishings and objets d'art and fine views over the city's rooftops – it's a bit like living in a fairytale
Up-and-coming tourist hoods: Asti
The newly opened Al San Giovanni
Up-and-coming tourist hoods: Asti
The ultra-chic Angolo del Beato, for perfectly executed classic Piedmontese cuisine
Up-and-coming tourist hoods: Asti
The recently opened Relais Cattedrale has seven rooms, tastefully done up with sculptural beds, designer lighting and vintage furniture.
Up-and-coming tourist hoods: Asti
The Zingiber suite in the The Relais Cattedrale has original 17th century frescoes on the walls
Up-and-coming tourist hoods: Asti
The private hot tub of the Zingiber suite in the The Relais Cattedrale
Up-and-coming tourist hoods: Asti
Spring and Autumn is the best time to visit, but go in September if you want to catch the annual Palio, the oldest existing Palio in Italy
Up-and-coming tourist hoods: Asti
The recently opened Relais Cattedrale
Up-and-coming tourist hoods: Asti
The lobby of the Relais Cattedrale
Italy's love affair with the concept store:
Idea Natura, Salerno

South of Naples, in the Italian district of Salerno, comes a supermarket that finally lives up to its superlative name. Designed by Milan-based CB'a Design Solutions, Idea Natura opened in January 2010 and offers a direct point of sale for the region's small, independent producers of fruits and vegetables, local meats, cheeses and wines. Think of it as a farmer's market with regular hours, a roof and great looking stall furniture in marbled walnut. Most of the products are organic and all, from the mozzarella di bufala campana to the local carciofi di Paestum artichokes, come directly to the sleekly designed space fresh off the trucks from local producers. Best of all, with no middle man, the consumers pay less than regular supermarket prices and the farmers earn more. Now that's what we call super. Piana del Sele, www.ideanatura.com
Italy's love affair with the concept store:
White Gallery, Rome

Nestled in Rome's former Palace of Modern Art, White Gallery is a giant concept store that sees contemporary art exhibitions, fashion, food and fragrance co-mingle across 5000 sq m of curved wall space. Under a wavy Murano glass chandelier designed by Karim Rashid swims a sea of fashion and accessories that covers everything from Balmain and Givenchy to Loro Piana and Brooks Brothers. For classicists, an in-house Napolitan tailor offers the made-to-measure tailoring with which the Romans are currently obsessed. Once you've indulged in the well-stocked fragrance bar, head upstairs to the real bar and enjoy a civilized lunch out on the terrace.
Piazza Marconi, 18/19 Rome, www.whitegallery.it
Italy's love affair with the concept store:
Serendeepity, Milan

Milan's newest concept store is loaded with pleasant surprises. Co-owners Nicola Mazzetti and Cristian Croce founded the store on the site of a former vintage record shop, their former place of employment. They kept the vinyls and the DJ booth, and added in their own mix of vintage design objects, quirky clothing and accessories by up-and-coming fashion designers. Neither slick nor overly-designed, Serendipity reflects the raw authenticity of its Porta di Ticinese setting. The boys host 'meet the artist' evenings of their favourite musicians passing through town and frequently order aperitivo fare from the bar next door for their guests and shoppers. 'We don't have a real bar yet,' says Croce, 'but we're planning on it.

Corso di Porta Ticinese, 100, Milan, www.serendeepity.net