Ienki Ienki creates protective outerwear for National Antarctic Scientific Center of Ukraine
The Antarctic Expedition Parka will equip members of the National Antarctic Scientific Center of Ukraine as they carry out research in one of the harshest climates in the world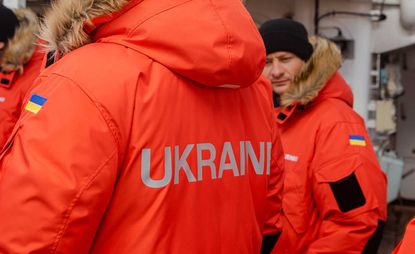 (Image credit: Sasha Maslov)
On 24 February 2022, Ukrainians countrywide woke up to the reality of a war with Russia, as Putin began a full-scale invasion of the country, with missile and helicopter attacks, including multiple explosions in the capital, Kyiv.
Just days before – as the world waited with bated breath regarding Putin's intentions, and before normality was lost to the people of Ukraine – Ukrainian label Ienki Ienki, a brand renowned for its colourful padded and shearling outerwear, such as diamond-quilted ski suits and lightweight capes, announced an innovative collaboration with the country's National Antarctic Scientific Center.
There's a poignant symbolism to the pieces of uniform, designed to protect members of the Ukrainian Antarctic expedition in some of the harshest and most perilous conditions, as they carry out rigorous research and expeditions, in temperatures that descend to minus 27°C.
Ienki Ienki equips Ukrainian polar explorers
Ienki Ienki's Antarctic Expedition Parka will equip members of the Vernadsky Research Base, and forms the debut design in the brand's new Advanced Research category, which places focus on experimentation in new technologies and protecting people in difficult and extreme weather conditions. The construction of the piece took into account research gathered from 26 Antarctic expeditions and 12 individuals operating from the southernmost continent.
The exterior of the innovative outerwear piece is made using a three-layer technical fabric, bonded with waterproof, windproof and breathable membrane and with protective technical mesh. It was created by Italian textile factory Majocchi. Inside, a multi-layer insulation crafted from hygroscopic down makes the design completely waterproof, both externally and internally.
The powerful piece of protection shields brave and intrepid members of the National Antarctic Scientific Center of Ukraine. We applaud the innovation behind it.
INFORMATION
ienki-ienki.com (opens in new tab)