Hussein Chalayan retrospective, London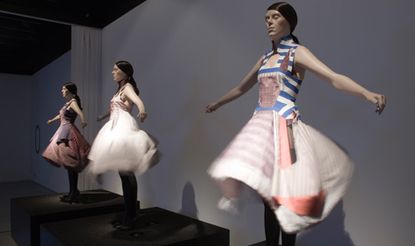 (Image credit: press)
When Hussein Chalayan's retrospective of his monumental works - From Fashion and Back - opened at London's Design Museum, there was a sense that something very big was taking place. Despite the fact that a similar exhibition has been shown twice before (previously in Groningen and Berlin) the designer is capable of whipping people into a frenzy.
This has been the story of Chalayan's life as a designer. His St. Martin's graduate show, The Tangent Flows (which consisted of a series of silk dresses, covered in iron filings, buried for four months and then exhumed) was bought in full by Browns, pretty much on the spot. In the short time since, there's very little the Cypriot designer hasn't experimented with. Architecture, design, technology, science and philosophy have all played a part in his work, the finest examples of which are on show at the Design Museum.
Some of our favourites are a dress that can be folded into an airmail letter and posted (Airmail Dress, 1999), a collection of furniture that changes into clothes (Afterwords, 2000) and outfits that mechanically transform from one era to another (One Hundred and Eleven, 2007), which made for one of the most spectacular, talked about catwalk shows in the history of fashion (above).
Accolades have come from all corners of the creative world: he's twice been named Designer of the Year at the British Fashion Awards, he represented Turkey in 2005 at the Venice Art Biennale and in 2006 he was awarded an MBE. The latest chapter was his appointment as Creative Director for Sport Fashion at Puma, the first collection of which will debut later this year.
We grabbed the designer for a quick chat about his work…
How you would describe what you do to someone who doesn't know your work?
I'm essentially a fashion designer but informed by other facets of life. My core business is clothing but also I do art projects as a duality to my fashion work. Art projects, installations, multimedia work; they're all part of the same vision. I could do a collection based on a film, or a film based on a collection. They all set each other off.
Do you find working within the parameters of the fashion world at all constrictive?
It's exhibitions like this that create a sense of release for me. These shows create a need for me to go beyond the restrictions of clothes or fashion shows.
How difficult is it to combine your other projects with the need to show on the catwalk twice a year though?
It's part of my life. I show twice a year with everyone else and just manage to get all my other projects done in between. I find the combination enriching and beneficial to both sides of my work. I feel very lucky that I'm able to do both.
What's it like to have a retrospective exhibition when you're still so young?
We had a retrospective already at the Groningen Museum about four years ago and another after that outside Berlin, so I'm quite used to it now. What's really good is the opportunity to show my whole world and to see the same way of thinking applied to different things at different times.
Is there a tangible development through time?
Of course. I think there's a lot of work though done ten or twelve years ago that's timeless. The nature of the ideas is timeless. Maybe the progression is technical more than anything.
Is that just because technology has developed?
Yes. I've also learnt a lot as I've worked: better ways of cutting, fabrics that work better than others for various things. I've gained experience – it's as simple a sthat.
You've said in the past that in the design world the most important thing is to always be thinking of something that hasn't been done before.
My approach has always been that I want to do things that haven't been done before. I always feel what's the point of doing something that's been done because the person who did it previously will already be doing it better than you. I think it's important to create your own language in the world of fashion definitely.
With function as a starting point though, is it not important to better what's been done already than strive just to create something entirely new?
Well there's a lot of innovation that does better function, both in fashion and design. You can improve function in a very technical way. For me progress is primarily to do with the relationship between my monumental and wearable pieces. This balance is so important for me because I spend a lot of time fitting normal clothes, which genuinely excites me, but these clothes don't fit into this exhibition because you need to wear them and touch them to appreciate them. This is the duality to my work; monumental inspiration and little things that evolve into my commercial work.
Do you create the monumental pieces to gain a reaction? Is there an element of pressure that people expect something with wow-factor at the end of all your shows now?
Well it goes back to the duality too. I wouldn't like to do one without the other. The monumental pieces are collected by museums and individuals and not sold commercially, whereas the rest of the collection goes to stores. But both elements come from the same way of thinking, with the same ideas informing the individual collections.
You've recently been appointed Creative Director of Puma, how will this fit into your work, or how will you fit into their world?
Puma are investing in my brand. It's not a fashion brand, it's a sports lifestyle brand that can be informed by fashion. I can almost be more playful with my ideas because there's more room to explore with technology in a sports brand than perhaps in a fashion brand. This is really exciting for me.
How would you like to progress from here?
A shop would be the best thing because I could show everything together – clothes that people can touch and try on, with the monumental pieces shown alongside, almost like a gallery.
ADDRESS
Design Museum
Shad Thames
London SE1 2YD
Jack Moss is the Fashion Features Editor at Wallpaper*. Having previously held roles at 10, 10 Men and AnOther magazines, he joined the team in 2022. His work has a particular focus on the moments where fashion and style intersect with other creative disciplines – among them art and design – as well as championing a new generation of international talent and profiling the industry's leading figures and brands.