House party: Bottega Veneta and Tomas Maier celebrate dual anniversaries in Milan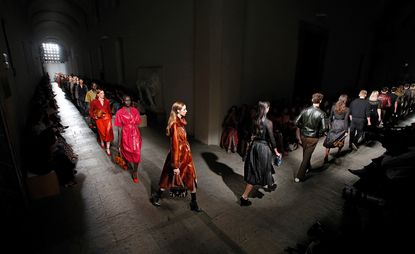 (Image credit: TBC)
Tomas Maier has never done things by half measures. Since his arrival as creative director at Bottega Veneta 15 years ago, the German designer has made full-bridled luxury his life pursuit. But you'd never know it by listening to him, or looking at his artfully understated clothes.

Both Bottega and Maier embody effortlessness, and such was the atmosphere at the anniversary celebration in Milan that celebrated not only Maier's long, successful run but also the Vicenza-born leather goods house's 50 years in business. 'I wanted to celebrate by staying true to the brand, to the ideas of private luxury that are all about the experience of whomever owns our [products],' Maier explains.

His gentle vision permeated the celebration that started in the early morning at Milan's Accademia di Brera, a magnificent 18th century palazzo that houses the city's top fine arts academy. Under the grand stone-arched hallways in front of an audience of 1,000 people – three times the size of his usual discreet shows – Maier delivered a rousing tribute to his greatest hits at Bottega Veneta as well as lots of new design elements.

The clothes were a stream of pure chic, a final distillation of the proper, beautiful, womanly woman and her low-key man with the impeccable, but discreet taste that Maier has been chipping away at and perfecting over the years. They crystallised beautifully on the runway in Maier's specialties, from his nipped-waisted pleat three-quarter-length dresses, waxed shirt dresses and jumpsuits, to big skirted ball gowns hung together with thick technical straps.

The models were an exceptional group, ranging from today's top crop of social media stars like Gigi Hadid, to the supermodels of yesteryear like Eva Herzigova and Clement Chabernaud, all the way to legendary icons like Lauren Hutton who carried the same Intrecciato clutch she had in American Gigolo in 1980. The real bodies and real wrinkles were refreshing additions to this runway, compounding the clothes that perfectly synthesised Maier's view of classy elegance.

The designer himself remained nonplussed about his big birthday. 'It just feels normal', he said during cocktails later that evening. 'The best part was having everyone from the studio and factory there,' he added, referring to the victory lap he took with his team around the runway and the many craftsmen who peppered the audience. But later, during his speech in front of an intimate dinner of 100 specially curated guests from the top ranks of the fashion world, his emotion was visible. Settled within a Greek-sculpture lined wing of the Accademia, his boss François-Henri Pinault made a rousing tribute to the man who gave Bottega back its beating heart.
INFORMATION
For more information, visit the Bottega Veneta website or the Tomas Maier website