Kimono specialist Hosoo opens minimalist Kyoto flagship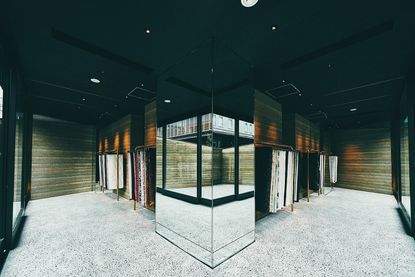 (Image credit: hosoo.co.jp)
Hosoo, a centuries-old Japanese textile company, has opened a flagship store in Kyoto, launching its first range of lifestyle products, from bags to cushions.

The Hosoo Flagship Store, located on a quiet lane in Karasuma-Oike, is housed in a new five-storey space spanning 275 sq m, complete with a lounge, gallery, 'kimono cellar' and head office.

It's the culmination of a string of innovations for the famed Kyoto company, founded in 1688, since 12th generation Masataka Hosoo took over 11 years ago – from global exhibitions and contemporary collaborations to bespoke textile clients including Chanel, Dior and Ritz-Carlton.

Inspired by the concept of 'craft architecture', there are expanses of rammed earth walls with gradated stripes in warm peachy shades plus smooth black expanses of ink-dyed plaster transected by minimal lines created by gold leaf artisans.
'The Hosoo Flagship Store has a minimalistic appearance from afar,' explains architect Naohisa Hosoo (Masataka's brother). 'Yet up close, the fine details and texture provide plenty of expression to the building.'

The ground floor store showcases its first luxury lifestyle products – including clutch bags (some unfolding like envelopes, others half-moon shaped), cushions and ornate indoor slip-on shoes, all crafted in Hosoo fabrics.

Tea and textile-inspired macaroons are served in the surrounding Lounge, which is fringed with intimate alcoves, where textiles hang on curved metal frames overlooking small stone courtyards.

Peppered throughout are bespoke furniture pieces by Copenhagen-based OEO Studio, longtime Hosoo collaborators who were also involved in the interior design: clean-lined chairs, three-seat sofas and day beds with minimal ash wood frames upholstered in rich textiles. A central black staircase leads to the first floor Gallery – complete with an ethereal OEO-designed 'Moss' carpet – devoted to textile exhibitions (the opening show features an encyclopedic catalogue of Japanese textiles, looped from the ceiling).
RELATED STORY
The appointment-only third floor houses Hosoo's kimono and obi wholesale showroom, with tatami mat floors and a darkened 'kimono cellar' storing 7,000 garments. Its head office spans the top floors (with pastel Hosoo carpets designed by Amsterdam-based Mae Engelgeer: her textiles also appear on the ground floor daybeds)

Another classic Hosoo detail? The upper exterior façade – plus several coffee table tops in the Lounge – consist of OEO Studio's light-filtering innovation Nishijin Reflected: Hosoo textiles placed between alternating layers of fibre-reinforced resin and glass.

At a time when Japan's traditional industries are struggling with dropping consumer demand and ageing craftsmen, the store is a textbook perfect example of how such companies can thrive. As Masataka Hosoo (dressed in layered grey kimono robes, a paper fan tucked into his obi) explains: 'In 2008, we had two elderly craftsmen. Now we have 18 – many in their 20s and 30s. We hope this building can help support many Japanese craftsmen and showcase what they are capable of.'
INFORMATION
ADDRESS
412 Kakimoto-cho Nakagyo-ku
Kyoto
Receive our daily digest of inspiration, escapism and design stories from around the world direct to your inbox
Danielle Demetriou is a British writer and editor who moved from London to Japan in 2007. She writes about design, architecture and culture (for newspapers, magazines and books) and lives in an old machiya townhouse in Kyoto.
Instagram - @danielleinjapan