Givenchy illuminates S/S 2022 with cinematic sun at Paris La Défense Arena
For his first physical runway show for Givenchy, Matthew M Williams takes guests to the largest indoor performance venue in Europe, on the outskirts of the French capital, with a stark, art gallery-inspired show set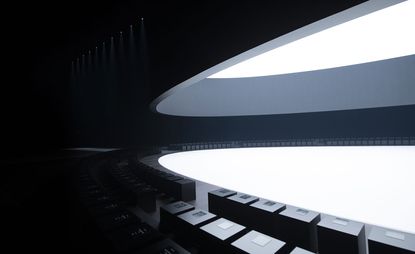 (Image credit: Givenchy)
For S/S 2022, the world's fashion brands have showcased their first physical runway shows in 18 months – following the easing of pandemic-related restrictions – in a host of spectacular locations. In Paris alone, Hermès caused a stir by taking guests to the private airport of Le Bourget, where a plane touched down on the runway at the show's finale, while Balenciaga took over the grand Théâtre du Châtelet, complete with a red carpet and hoards of screaming fans.
Matthew M Williams also had something spectacular on his mind for his first physical show for Givenchy, after being appointed creative director of the Parisian Maison in June 2020. Last season, the brand presented a panoramic show film, which saw models stomping through water, illuminated by scores of headlights, in the Paris La Défense Arena, the largest indoor performance venue in Europe, on the outskirts of the French capital.
Arena transformed for Givenchy S/S 2022 show
For its S/S 2022 showcase, the brand is returning once again to the Paris La Défense Arena – a sculptural, domed space that was designed by the French architect Christian de Portzamparc and opened in 2017, and can hold up to 40,000 spectators. Here, Williams is set to bathe his guests in the glow of a cinematic sun, by suspending a monumental oculus from the ceiling of the vast space, which will bathe the venue in bright light.
The stark, serene light will transform the space into a brutalism-inspired arena, or an enormous pristine art gallery, setting a suitably compelling scene for Givenchy's S/S 2022 creations to make their entrance.
Another nod to the art-influenced notion behind the set design? Givenchy's S/S 2022 also unveils a collaboration with the American artist Josh Smith, whose emotive, large brushstroke-swathed paintings feature figurative elements, such as skeletons, fish and insects, to impressionistic effect.
INFORMATION
givenchy.com