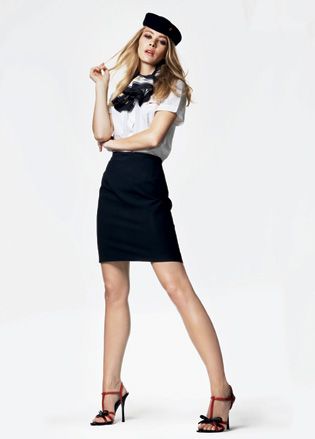 (Image credit: Photography by Philippe Vogelenzang)
Air stewardesses are women with serious altitude. Their uniforms appeal because of the combination of authority and subservience. Their outfits, like all the best uniforms, bespeak manners, know-how, discipline and restraint.
As sloppy, undisciplined, un-uniformed civilians with no stern code of conduct, we dream of being the person seduced by the uniform during an unscheduled lapse in procedure... or to be the person engendering that seduction. It's the promise of something lascivious under the clean and immaculate totalitarian styling that services our mojos with a very welcome upgrade.
She may curtsey next to your aisle seat in the manner of an acquiescent cocktail waitress, delivering champagne and hot towels, leaning forward to operate your chair back mechanism or aiding, geisha-like, with the secretion of your folding table as you prepare for landing. But you also know that she has the authorisation to bang on the door like a bad cop if you spend too much time in the loo, or zip-tie your wrists to the arm rests if you start behaving... disobediently.
On the ground, livery-centric fantasies can be regulated. But add to the equation the hi-octane glamour of the skies; the gently choreographed regime of the emergency exit demonstration; the coquettish twitch of the dividing curtain; the complimentary booze; the intense confinement of the aircraft; the unavoidable proximity of strictly tailored human form playing frottage with passenger duds in the constricted gangways; the heady, lawless, mile-high detachment of the skies and you have the libidinous recipe for a cabin-shaped, jet-set priapism. Just thinking about it makes me want to return to my seat and secure my safety belt. 
For the full article by Simon Mills, get this month's issue of Wallpaper* (138), out now.