Atlein S/S 2020 Paris Fashion Week Women's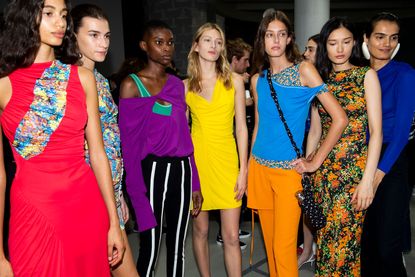 (Image credit: Jason Lloyd-Evans)
Moodboard: When Antonin Tron founded Atlein in 2016, the thing that first intrigued buyers and editors about his work was the fact that it was all made from upcycled fabrics. Back then, that was an anomaly (and many still had to Google 'upcycling').

Fast forward three years, attitudes towards sustainability in fashion have – at last – morphed. But Tron's visionary philosophy hasn't: his most recent collection is still crafted from a combination of headstock fabrics, recycled materials and traditional fabrics, with most of the pieces traditionally made in France. This work ethic, along with his well edited, pared-down shows (there were 31 looks in yesterday's offering) have earned Tron – a Balenciaga alumni from the Nicolas Ghesquière era – a reputation for being both discreet and chic, a far cry from the dominant Insta-worthy trends. Yet, judging from the enthusiastic reception of yesterday's show, the fashion world might finally be catching up with him.

Team work: One of the things Tron is discreet about is his personal engagement in the fight for climate justice. In an era – and an industry – rife with greenwashing, this is understandable. But if, last year, the designer became a member of the environmental protest group Extinction Rebellion, he is now ready to become public about it: among the collection were a series of upcycled cotton silk-screened tops depicting three species on the verge of extinction (the woodpecker, the narwhal and the white cheeked gibon). 20 per cent of the profits generated from those pieces will be donated to Extinction Rebellion. But if that was the most visible sustainability initiative in the collection, it was not the only one.

Best in show: After all, the best thing we as fashion consumers can do for the planet is to consume less and wear our clothes more: this seemed to be the premise of a show based on timeless pieces, shapes and details. Styled simply – with layering and fresh-faced models sporting low maintenance hairstyles – the clothes felt decidedly modern, but also like the sort of shift dresses, asymmetrical tops and simple black trousers that become wardrobe staples in the long run. The focus was on draping – what the designer does best, and with increasingly impeccable taste – from the opening, silky smooth black jersey dress, to the wraparound skirts and a series of flower-printed ruched mini dresses. Twisted seams were omnipresent, elevating essentials including a navy and black mid-calf tube dress with golden buttons on the side and a long, single-sleeved coral tunic that worked as both a casual oversized t-shirt and an evening gown. I's this kind of ease – a deceptive one that conceals an enormous amount of thought and precision – that makes Atlein a particularly covetable brand – and one that has a solid, no-nonsense, long-lasting fashion offering.