Christopher Kane S/S 2020 London Fashion Week Women's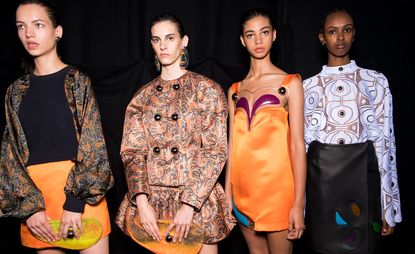 (Image credit: Jason Lloyd-Evans)
Mood board: In recent season's Kane's been revelling in the eroticism of sex, and its accompanying oddities and fetishes. Cue S/S 2018's sexy yet saccharine rubber glove clad-housewives, inspired by Eighties South London brothel owner Cynthia Payne, or A/W 2019's offering, nodding to balloon or rubber fetishists. Fashion's relationship with the environment is spring's most pressing topic (peaceful Extinction Rebellion protestors are a common show venue backdrop), and fittingly for S/S 2020 Kane took cues from people obsessed with the natural world. Photographic wildflower and cloud prints emblazoned tailored coats, t-shirt dresses and leg of mutton sleeve jackets, and in the designer's typically subversive and futuristic style, natural prints were juxtaposed against neon lace and chainmail, petal shapes were formed slivers of gel and sweaters were printed with otherworldly Martian forms.

Scene setting: Inside a vast underground industrial space in Camden, walls projected photographic prints of meadows and clouds. A computerised female voice reiterated the 'Eco Sexual' nature of his collection, repeating the words 'The stones, the flowers, the soil', all sexual fodder for nature's erotic obsessives.

Best in show: Kane fans look out for the self referential notes in his collections, like the photographic floral prints here which looked back to the ethereal applique florals in his S/S 2012 collection. Last season, Kane alluded to the gel-filled plastics he used in his A/W 2011 collection and for spring again, accessories and jewellery were made from glittering gel-filled plastics. The natural and the man made – two forces both fashion and the wider world is confronting today.