Gucci S/S 2019 Paris Fashion Week Women's
The Italian house presents a spectacular spring collection inside the historic Le Palace Theatre in Paris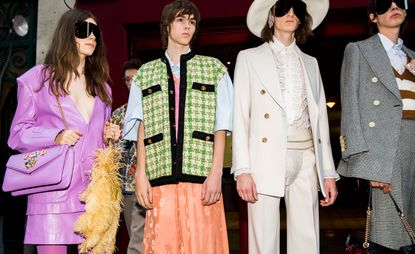 (Image credit: Jason Lloyd-Evans)
Scene setting: Grace Jones singing 'La Vie En Rose' atop a Harley Davidson and surrounded by dry ice, waiters dressed in Mugler designed uniforms, Prince's first concert… the list of ostentatious scenes noted at Le Palace – the theatre-turned-nightclub on the rue du Faubourg-Montmartre in the 9th arrondissement – is a long and decadent one. The discothèque, which was opened by Fabrice Emaer in 1978, was a haunt of Karl Lagerfeld and Kenzō Takada, Mick Jagger and Andy Warhol, and its history is steeped in high octane drama and a Guy Cuevas-mixed soundtrack. This Parisian answer to Studio 54 was a stupendous location for Gucci creative director Alessandro Michele to stage his final ode to French culture (we've also seen an advertising campaign celebrating the 1968 student riots in Paris, and a Resort 2019 show held Promenade Des Alyscamps in Arles). Clutching binoculars, guests sat in rows of theatre seats, where they saw not only models striding down its aisles, but were also treated to a trippy opening film from the Seventies, directed by avant-garde performance artists Leo de Berardinis and Perla Peragallo. Oh, and a fantastic surprise performance by Jane Birkin, who belted out 'Baby Alone in Babylone' from the centre of the aisles.
Mood board: There's a flamboyant fabulosity to Michele's aesthetic, and it's one that shows zero sign of abating in popularity. This was a cacophonous men's and women's collection, heavy in feathers and ruffles, glittering fabrics and colour. For women, blouses with hyperbolic Oriental pleats, beaded flapper dresses and kaleidoscopic ostrich feather trim gowns. For men, 'GG' Gucci logo suits with Seventies swagger, Prince of Wales check trenchcoats, jacquard jogging bottoms and saucy leather hotpants. Glamour and glitz, off-kilter and unusual… just some of the machinations of Michele's mind.
Finishing touches: There were a treasure trove of accessories, from Mickey Mouse shape bowling bags to hiking rucksacks, huge hats and even a live cockatoo. Oversized accessories have been a big hit on the S/S 2019 runways – just look to Dolce & Gabbana's oversized dotted parasol or the huge straw bags on the Jacquemus runway. Gucci's offer came in the form of larger-than-life feathered fans. We're sure they'd have been welcome cooling devices back on the Le Palace dancefloor in the late Seventies.