Fendi S/S 2019 Milan Fashion Week Women's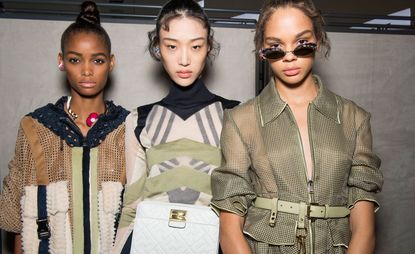 (Image credit: Jason Lloyd-Evans)
Mood board: The luxury industry is in a state of flux. Our ensembles are only getting more casual and sports and streetwear are the new codes of sophistication. It's an attitude that Fendi – traditionally a Roman fur house – is getting acquainted with. Its F is for Fendi platform is targeted at millennials, its recent art projects encompass graffiti and street art, and its logo has been mashed up with the Fila motif. There was a new utility and practicality to the brand's S/S 2019 offering, which featured accessories and clothing adorned with handy pockets and pouches, clips and carabiners. Amongst more classic shapes like ruffled leather dresses, beaded gowns and cockatoo print dresses, there were cycling shorts, utility pants, parka-style fur coats with pockets and denim bomber jackets, all in browns, beiges, oranges and blues.

Finishing touches: Bumbags are a big accessory style hitter. Iterations of the shape abounded on the Fendi runway, in embossed 'F' logo bumbags and multi-pocket tool belts strapped over the shoulder or around the waist. Hundreds of eager fans wait outside the Fendi show each season, waiting to get a shot of its most famous influencer attendees. Next season those styles will make for the ultimate money shot.

Best in show: Sleek beige jackets touched on the utility theme and featured zip-pockets and metal clips. The brand's Peekaboo bag, already practical with two internal compartments, was given an even more utilitarian edge, adorned with multi pockets for your passport, phone et al.