Emporio Armani S/S 2019 Milan Fashion Week Women's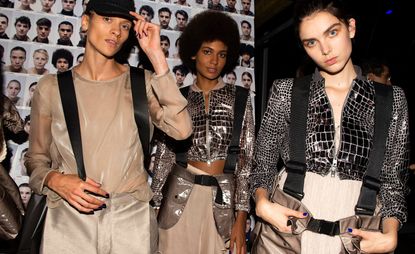 (Image credit: Jason Lloyd-Evans)
Scene setting: It was all aboard at Emporio Armani's S/S 2019 Milan Fashion Week show, as the Italian label showcased its spring offering inside a cavernous outdoor aircraft hanger on the runway of Linate Airport in Milan. This was a first class fashion experience, as guests checked into an imaginary Emporio Armani flight on arrival, presented their passports and passed through security, before boarding buses to the brand's hanger. Here they sipped prosecco and Negroni Sbagliato's, munched on pizza and miniature hot dogs, before taking their seats for Armani's arena-style spectacle. For the passengers waiting to depart in Alitalia aeroplanes nearby on the tarmac, this was taxi-time with a high fashion window view.
Mood board: It's an impressive feat to stage a fashion event inside an airport, and the show's security-tight location is a testament to Mr Armani's cult status in Milan. Its accompanying 170+ looks from the men's and women's collection was also impressive, and in true Armani style covered a wide range of styles and shapes. A host of hunky male models opened the show carrying paddle boards, before an astonishingly wide array of outfits followed suit, covering sportswear, tailoring and eveningwear. For a mere snippet of silhouettes, think long transparent cagoules, soft double-breasted suits and neckties, shimmering eveningwear in zesty greens and cobalt blue and women's tailoring in neutral tones. Emporio Armani at high altitude.
Team work: Forget in-flight entertainment, it's all about in-aircraft hanger-headliners. The show's finale featured a live performance from a sequinned kilt-clad Robbie Williams who belted out classics including Let Me Entertain You, Rock DJ and a cover of George Michael's Freedom.