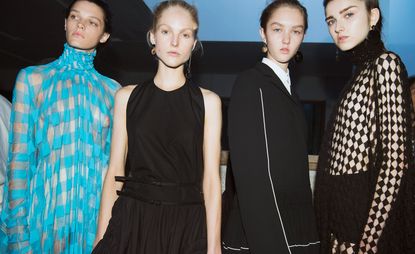 (Image credit: Jason Lloyd-Evans)
Scene setting: Luke and Lucie Meier, the new husband and wife creative directors of Jil Sander, presented their debut collection for the German fashion house at CityLife, a minimalist residential complex designed by Zaha Hadid in 2013. Signalling a fresh start for the brand, the open-air show was presented against a stark concrete backdrop, while the evening sun caught distant treetops.

Mood board: The designers presented a triumphant men's and women's collection for the minimalist house, one inspired by the contrasting elements of their creative and personal partnership – such as hard lines and soft embellishments, or the masculine and the feminine. There were tailored coats finished with panels of braided leather, pastel shirts coated in plastic, bright mohair knits, pretty ruched dresses adorned with tiny beads, billowing smocks and softly striped suits.

Finishing touches: The Meiers used an engagement ring motif – also a symbol of their union – in their accessories offering. There were slip-on flats and braid detail lace-ups finished with metal ankle straps and necklaces with engagement ring pendants. Jil Sander donned an academic cap with clutches that were imagined as leather-bound books with metal spines.