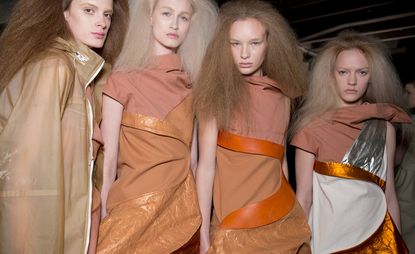 (Image credit: TBC)
Mood board: The casting for a Rick Owens show is never the standard brief (one season it was a Grit Face dance troop, more recently men game enough to swing their dicks down the runway), but this season another type of strength entirely was a prerequisite. Owens wanted to explore the notion of transformation and so recruited women (be they dancers or gymnasts) with the muscle to quite literally carry each other. At a time when so many people are carrying their whole lives in their arms, the concept alone, was a loaded one.

Finishing touches: Harnesses were involved in the making of these human sculptural forms, although there was also a whole lot of core strength involved. Some positions were more risqué than others in their challenging physical contortions, while others were so suggestive in their placement that it was hard to hold back a chuckle.

Best in show: Owens' clothes have always been about transforming the body, with his engineered silhouettes and material experimentation, and this season was no different. Working in a neutral, rust and noir palette he used lots of silk organza, in addition to leather, to create organic shapes via the pinning and contorting of these fabrics to create twisted volumes.
INFORMATION
Photography: Jason Lloyd-Evans